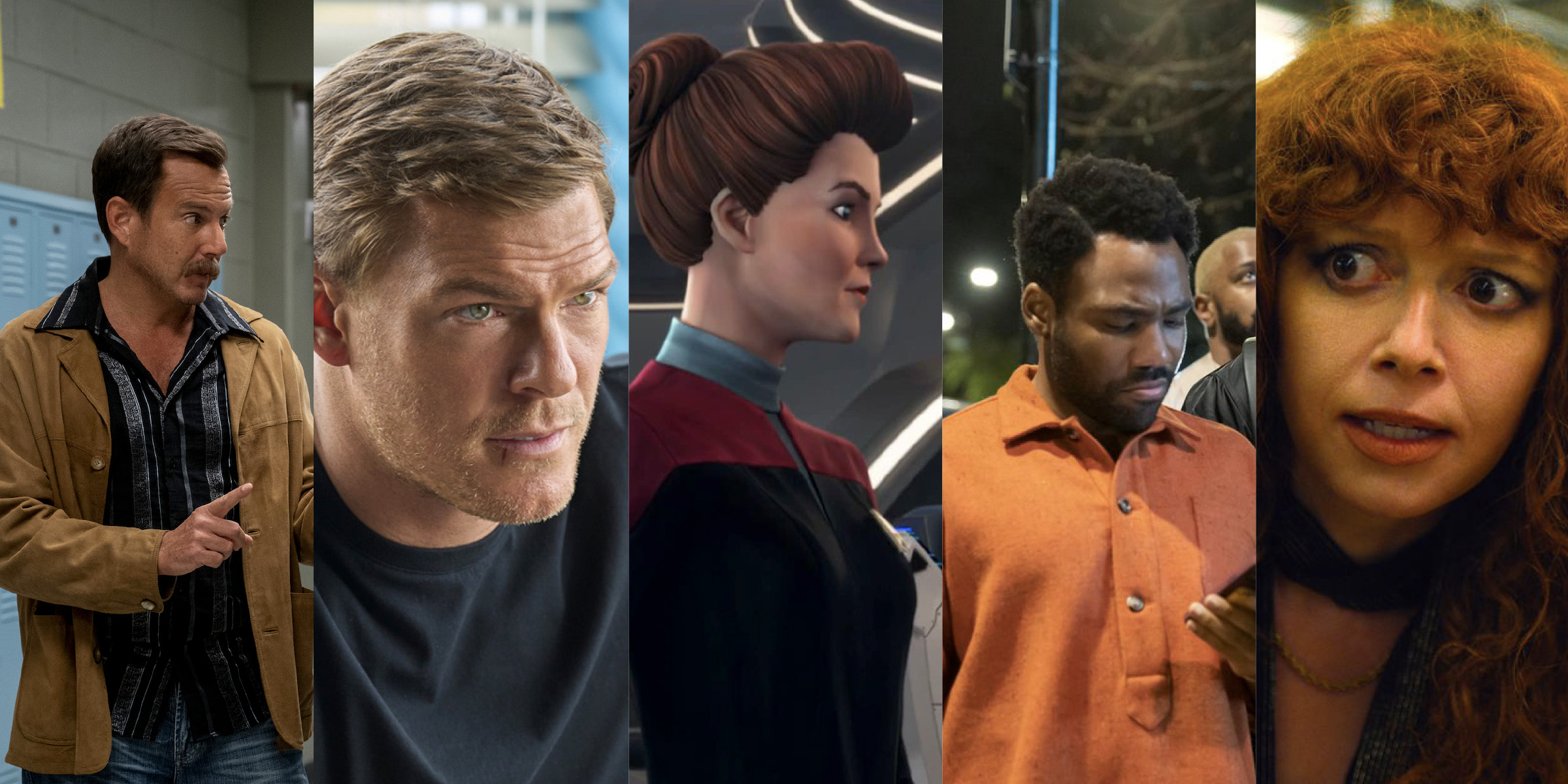 Josh's Favorite TV Series of 2023 — Part One!
I hope you enjoyed reading my look back at my favorite movies of 2022!  
And now, on to my list of my favorite TV Series of 2022!
I've watched a LOT of great TV in 2022, but, as always, there's plenty of TV I haven't gotten to yet — including, but not limited to: The Afterparty, The Marvelous Mrs Maisel season 4, Barry season 3, Jack Ryan season 3, Fleishman is in Trouble, Undone season 2, and Atlanta season 4.  I'm also only four episodes into The Sandman (which I'm really enjoying so far!).
Let's start with a few honorable mentions for pre-2022 shows:
Voir — This 2021 Netflix series, produced by David Fincher (director of so many amazing films, including Se7en, Fight Club, Zodiac, The Social Network, The Curious Case of Benjamin Button, Mank, and more), is a series of short video essays (most are approx. twenty minutes long), each written and performed by different film critics.  Each essay explores a different aspect of cinema history and techniques.  I loved this series, and I recommend it to all movie-lovers.  (Click here to read my full review.)
We Are Ladyparts — This wonderful 2021 six-episode British TV series is about an all-female, all-Muslim punk band in London. I loved this funny, sweet, moving show!  It's a pleasure to see a series focusing on Muslim women.  All five major Muslim female characters (the band's four members and their manager) are delightfully distinct, memorable characters.  The show feels incredibly diverse without feeling simplistic or pandering.  It's funny and heartfelt and I loved it.  (Click here to read my full review.)
And now, let's start looking at my my favorite TV Series of 2022!
25. Murderville season 1 — In each episode of this funny and weird show, Will Arnett's character of detective Terry Seattle is paired up with a different celebrity guest (Conan O'Brien, Marshawn Lynch, Kumail Nanjiani, Annie Murphy, Sharon Stone, and Ken Jeong), to investigate a murder.  The idea is that Mr. Arnett and the other cast members know the story, but the celebrity guest doesn't.  So they improv together through a series of scenes as they "investigate" the case and, in the end, each guest has to try to identify the person who committed the crime.  This show isn't fall-on-the-floor funny, but I enjoyed its gentle silliness.  (Click here to read my full review.)
24. Reacher season 1 — After two OK but not great Tom Cruise Jack Reacher movies, this Amazon TV show is a more faithful take on the character.  Season one is an adaptation of Killing Floor, the first novel in Lee Child's Jack Reacher series.  The bones of the story from the novel are strong, and it works as a compelling basis for a TV show that is a combination of mystery, action and suspense.  The cast is strong, and I enjoyed this taut, violent mystery.  (The show would rank higher on my list, except that I didn't love the performance of the main actor playing Reacher; I didn't think his acting chops were quite up to snuff.)  (Click here to read my full review.)
23. Star Trek: Prodigy season 1 — I did not think I'd be interested in this new animated Star Trek show, which seemed like it was being aimed at kids (thus completely missing the point of how classic Star Trek always worked for kids and adults alike).  But I'm pleasantly surprised by how well made the show wound up being.  Yes, the main characters are all young people, but the series has done a strong job of developing them all as interesting characters who I've enjoyed following on these adventures.  Better yet, the show has been surprisingly connected to established Star Trek continuity!  This feels like a show made by people who know and love Star Trek, which is a pleasant surprise.  While at first its location and time setting seemed completely separate from all previous Trek shows, as this first season unfolded, it turned out that the show was deeply connected to Trek's history.  In fact, it's basically a stealth sequel to Star Trek: Voyager.  Now, I freely admit I'm not a huge fan of Voyager.  Before the disastrous modern Trek shows overseen by Alex Kurtzman, Voyager was always my least favorite Trek show.  But I've loved the way they've used Janeway on this show!  I feel far more connected to Janeway after one season of Prodigy than I did after watching seven seasons of Voyager.  I'm excited for season two!  (My full review of season one will be coming soon.)
22. Atlanta season 3 — After four years away, it was a pleasure to have Donald Glover's series back.  I was impressed as always by the show's narrative adventurousness, with each episode its own unique creation.  And yet, at the same time, I wasn't quite as engaged by the show as I'd been when watching the first two seasons.  I was disappointed that we didn't get to spend enough time with the characters I'd grown to love.  Having four of the ten third-season episodes be stand-alone anthology-type shows that didn't feature Earn, Paper Boi, Darius or Van, felt like a misstep to me.  On the other hand, it was great fun to explore Europe with these characters, and I enjoyed the time spent this season giving us a taste of what these four Atlanta young people both enjoyed and disliked about these different European locations in which they found themselves.  I've heard that the fourth and final season (which I've just started watching) is more focused on the series' main characters, which I welcome.  I can't wait to finish watching the remaining episodes.  (Click here to read my full review of season three.)
21. Russian Doll season 2 — I didn't need a sequel to the near-perfect first season of Russian Doll, but I was delighted to get one!  While this second season wasn't as satisfying for me as the first one was — the story was shaggier; the narrative didn't feel as perfectly structured, and it was sadder and less funny than the first season — I still thought it was a pleasure to get to follow Natasha Lyonne's Nadia on another head-spinning, time-traveling adventure!  I loved that this season really dug into Nadia's complicated relationship with her mother.  That was an interesting aspect of season one, and I loved the choice to take a deeper dive into her mom's story here in season two.  I was glad to see Chloë Sevigny back in the role of Nadia's mom Lenora.  It was fascinating the way the show allowed Nadia to Quantum Leap herself into her mom's body, literally walking in her shoes, so that she could better understand her mom and what she'd been through.  One of the most riveting moments in the series was when Nadia finds herself getting sucked into her mom's madness as she starts to experience how her mom sees the world, and how disorienting that can be.  I also enjoyed seeing Nadia's Jewish heritage continue to be an important part of series, as Nadia tries to track down the treasure that the Nazis stole from her Jewish Hungarian ancestors back in the forties.  This gives a welcome depth and resonance to the sci-fi twistiness.  (Click here to read my full review.)
I'll be back tomorrow to continue my list!  Thanks for reading!
Please support my website by clicking through one of our Amazon links the next time you need to shop!  As an Amazon Associate, I earn from qualifying purchases.  That means I'll receive a small percentage from any product you purchase from Amazon within 24 hours after clicking through.  Thank you!