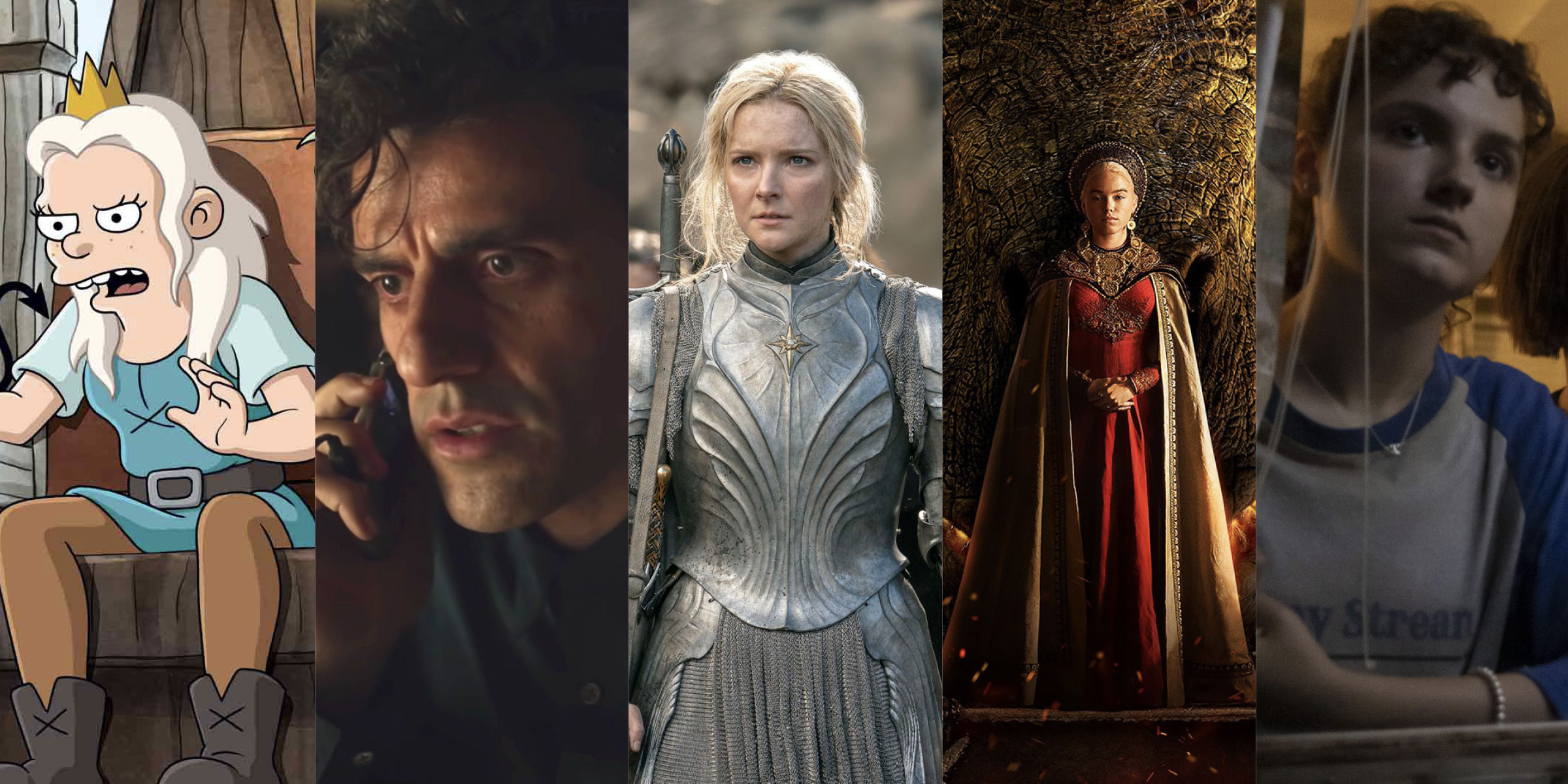 Josh's Favorite TV Series of 2022 — Part Two!
Yesterday I began my list of my favorite TV series of 2022!  Let's continue…
20. Disenchantment season four — I'm sad that Matt Groening's Netflix animated series Disenchantment seems to continue to be flying very far under our cultural radar.  It's a very funny send-up of fantasy universes, while also being a compelling fantasy adventure at the same time!  I love movies/TV shows that are able to do both things at the same time — to poke loving fun at their inspirations, while at the same time telling a very good story set in that type of world/situation!  (Movies like Ghostbusters and Galaxy Quest are great examples of this.)  Disenchantment is a great show; it's funny and silly, while at the same time it's a compelling fantasy adventure story.  Over the course of four seasons so far, they've developed a wonderfully rich fantasy universe on this show.  I hope this fourth season isn't the end.  (Click here to read my full review.)
19. Moon Knight — I can't believe there's actually a Moon Knight TV show!! Oscar Isaac is terrific as the tortured hero at the center of this show; Mr. Isaac does a brilliant job bringing to life the alternate personalities of Steven Grant and Marc Spector.  It's fun to see Marvel really lean into the weird horror aspects of this show, which was impressively stand-alone and devoid of connections to the wider MCU.  (I love those connections, but it felt like the right decision to allow this show to stand on its own two feet.)  I also loved May Calamawy as Layla El-Faouly, who gets to become a superhero in her own right by the end of the season!  It's nice to see a kick-ass Muslim super-heroine.  It was a cool choice to weave so much Egyptian culture and music into the show; Moon Knight benefited from having several Egyptian artists involved in key roles.  And I was glad to see that Marc Spector's Jewish heritage from the comics was incorporated as well.  I know a lot of Marvel fans who skipped this show; it's worth your time!  (Click here to read my full review.)
18. The Rings of Power season one — Amazon's super-expensive return to the world of The Lord of the Rings was a mixed bag for me.  Both of this year's epic fantasy TV prequel series, The Rings of Power and The House of the Dragon, seemed to make a lot of the same mistakes.  Both series seemed to me to make the mistake of assuming that the audience was all-in for the season, and so both shows chose to throw the audience into the deep end in the early episodes, with multiple parallel storylines jam-packed with lots of characters, many of whom had very confusing and hard-to-remember names, taking place across the breadth of the fantasy world.  I found this very off-putting in the early episodes of both shows.  There were too many stories, too many characters, all dumped on us at once, and I found the episodes hard to follow and harder still to engage with.  I almost gave up on both shows.  In both cases, I'm glad I didn't, because by the end of each of their first seasons I wound up enjoying both series.  I was intrigued by The Rings of Power's deep dive into the world of J.R.R. Tolkien's fantasy universe, a thousand years before the events of The Lord of the Rings.  I liked being back in this world.  The series looks amazing.  This is a huge, epic series, filled with an extraordinary array of fantasy locations and races, and it is all depicted on a scale that is staggering for a TV series, even in today's era of "prestige TV".  There were a lot of great actors and interesting new characters in the series' sprawling cast.  I particularly enjoyed the Dwarf prince Durin IV (Owain Arthur) and the Silvan Elf Arondir (Ismael Cruz Córdova).  I'm onboard to see where this story goes from here.  (Click here to read my full review.)
17. House of the Dragon season one — Ditto to much of what I wrote above for The Rings of Power.  I almost bailed on this series, but I'm glad I didn't, because I thought the back half of the season was surprisingly strong.  I'm impressed by the ambition of this series, telling a story featuring a vast array of characters set over many years.  The production design and special effects are extraordinary; this season looks amazing, blowing past even the terrific-looking final seasons of Game of Thrones. I was blown away by the star-making performances by Milly Alcock and Emily Carey as the younger versions of Rhaenyra and Alicent, and I also really loved the work of their successors, Emma D'Arcy and Olivia Cooke, as the older versions of these characters.  This was a four-way grand-slam.  A key reason why House of the Dragon works is these four amazing women.  The dragon-on-dragon action in the final moments of the season finale was stunning and a great way to end the season.  As with The Rings of Power, this opening season was shakier than I'd hoped, but they got me by the end, and I'm onboard to see where this story goes from here.  (Click here to read my full review.)
16. Paper Girls — Adapted from the wonderful comic book series written by Brian K. Vaughan and illustrated by Cliff Chiang, Paper Girls might be described as Stranger Things with girls, though such a simplistic description undersells the show's depth.  In the early morning after Halloween in 1988, four paper girls get swept up in a complicated time-travel adventure.  They wind up encountering future versions of themselves and their family members who often wind up being quite different than what they'd expected, forcing them to confront their understanding of themselves and those close to them.  The Paper Girls comic book series is one of the most fun, original comic-book series in years.  It's a delightful adventure, filled with all sorts of mind-bending sci-fi shenanigans and a delightful sense of playfulness… while also being a deeply nuanced and complex character study of these four young women, in which they each must confront some heavy personal issues.  This first season is a strong adaptation.  Unfortunately, Amazon cancelled the show a month after it was released.  Theoretically the show is getting shopped around to other streamers, though it seems like the odds of there being any more seasons are slim.  This is a shame, because I thought this first season was terrific; this is a show that definitely deserves to be allowed to continue.  (Click here to read my full review.)
Please support my website by clicking through one of our Amazon links the next time you need to shop!  As an Amazon Associate, I earn from qualifying purchases.  That means I'll receive a small percentage from any product you purchase from Amazon within 24 hours after clicking through.  Thank you!