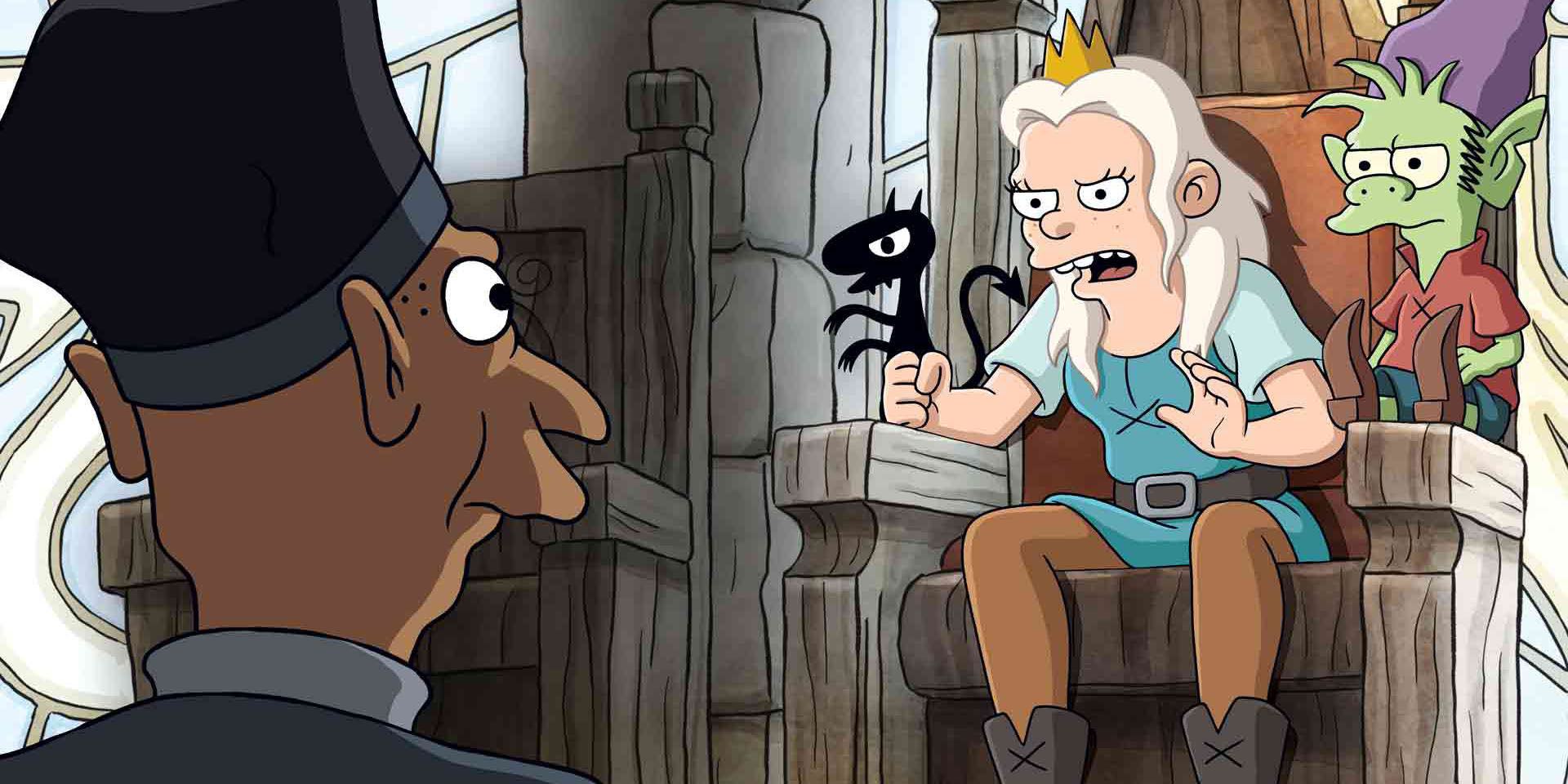 Josh Reviews Disenchantment Season Four
I'm a little bummed that Matt Groening's Netflix animated series Disenchantment seems to continue to be flying very far under our cultural radar.  Overseen by Mr. Groening and Josh Weinstein (a writer of many wonderful episodes of The Simpsons and Futurama), Disenchantment is a very funny send-up of fantasy universes, while also being a compelling fantasy adventure at the same time!  I love movies/TV shows that are able to do both things at the same time — to poke loving fun at their inspirations, while at the same time telling a very good story set in that type of world/situation!  (Movies like Ghostbusters and Galaxy Quest are great examples of this.)
Disenchantment is a great show, and I wish more people were watching it!  It's funny and silly, while at the same time it's a compelling fantasy adventure story.
The lead character of Disenchantment is Bean (voiced by Abbi Jacobson), the hard-drinking, foul-language-spouting, smart and brave princess of Dreamland.  Bean's two closest friends are a demon Luci (Eric Andre) and an Elf named Elfo (Nat Faxon).  All three lead performers are great, and very funny on the show.  They're a compelling group, with strong chemistry together.
As is usual for a Matt Groening series, the main characters are supported by an extensive supporting cast of characters who I have grown to love: Bean's father King Zøg (Matt DiMaggio, who voiced Bender on Futurama); Bean's mother, the evil Queen Dagmar (Catastrophe's Sharon Horgan); Odval, the scheming, three-eyed Prime Minister of Dreamland (played by voice-actor extraordinaire Maurice LaMarche); Zøg's second wife, the lizard-like Queen Oona (Tress MacNeille, the voice of countless characters on The Simpsons and Futurama); teenaged Prince Derek (also voiced by Tress MacNeille!); the prince-turned-into-a-pig Merkimer (Matt Berry); the king's wizard Sorcerio (Billy West, who voiced Fry on Futurama); bumbling guards Pendergrast and Turbish (Eric Andre and Richard Fulcher); the dim-bulbed but good-natured Jerry (David Herman); Mora the mermaid (Meredith Hagner); and more!
Disenchantment is different from both The Simpsons and Futurama in its continuity.  It remains episodic, in that each episode can be enjoyed on its own and has a beginning, middle, and end.  At the same time, the story has a strongly serialized aspect to it, with mysteries and character arcs continuing across multiple episodes (and seasons) of the show.  Over the course of its four seasons (so far), the series has developed a deep and complex fantasy world, filled with a vast array of characters and all sorts of overlapping mysteries and plot threads. I love this serialized aspect of the show; I love how well-developed the show's fantasy world is.  It's great fun getting to watch the writers peel back more and more layers of the world and these characters as the show has gone on.  This is part of what makes the show feel very special among the American animated TV landscape.
At the same time, the release pattern of this streaming show has, for me, diluted some of the impact this might otherwise have had.  Netflix has dropped the show in four 10-episode batches so far.  For each batch, they're released all ten episodes at once.  Even though I've resisted too fast a binge, I don't think it's taken me more than 2-3 weeks to watch any of these seasons.  This means it's a long wait of about a year between seasons, and I must confess this makes it hard for me to hold all of the show's twists and turns in my memory.  The result is that some of what I think were intended as big revelations in season four didn't land with as much impact for me as I think they should have had, because I didn't have such a clear memory of all that had come before.  (For instance, there's a lot of business this season about the connections between Dreamland and the Elves and the Trøgs, but I didn't quite follow everything… I feel like I was missing a few pieces, and I wonder if this would have all made more sense if the previous seasons were fresher in my mind.)  This is a show I really would love to go back and watch through from the beginning.  (Though I don't know when I'd ever find the time!)
Some more thoughts on season four:
The season premiere picks up right where season three left off, with Dagmar attempting to force Bean to marry Satan, to help get her (Dagmar) out of her debt.  No surprise, Luci and Elfo come through and help Bean get out of that jam.
I liked learning more about Elfo's family history in episode two.
Episode three thankfully moved forward season three's storyline about King Zøg's descent into madness.  That was tough to watch in season three, and I was pleased to see them bring Zøg back to a somewhat healthier mental state here in season four, while at the same time not just erasing everything we'd seen him go through.
I liked the sweet stuff later in the season between Zøg and Ursula the bear-woman.
I liked seeing the evil Becky and Cloyd again, though I am starting to feel like these two are becoming a bit of a broken record.  Neither they nor Dagmar feel that dangerous at this point. I'd love to see that change or for us to meet some new villains.
All the business with the evil puppet Freckles was suitably weird.
As I mentioned above, I had a bit of a hard time following all of the back-and-forth in the second half of the season, exploring the secret shared history between the Elves and the Trøgs and the people of Dreamland.  But I do love the way the writers have continued to develop the history of this fictional fantasy universe.
As usual, the season ended on an enormous cliffhanger!  I do hope this is not the end of the show.  I can't seem to find any information online, as of now, as to whether this show is coming back for a fifth season.  I hope this is not the end of Disenchantment!!  I really enjoy this show and look forward to my yearly fix.  I'd hate for the series to be left with its story unfinished.
Please support my website by clicking through one of our Amazon links the next time you need to shop!  As an Amazon Associate, I earn from qualifying purchases.  That means I'll receive a small percentage from any product you purchase from Amazon within 24 hours after clicking through.  Thank you!