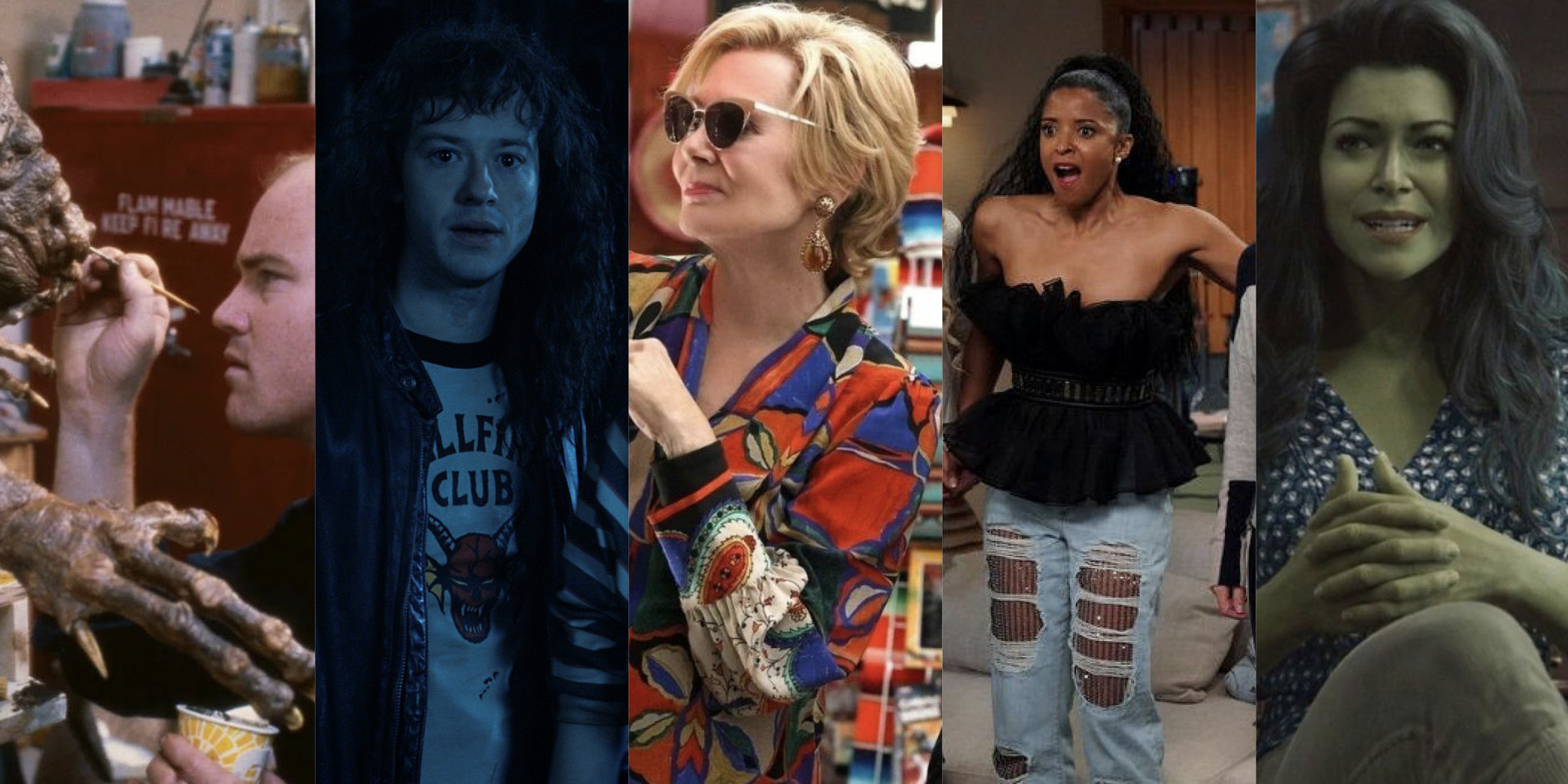 Josh's Favorite TV Series of 2022 — Part Three!
Click here for part one of my list of my favorite TV series of 2022… and click here for part two!  Let's continue…
15. Light and Magic — I loved every second of this spectacular six-episode documentary series on Disney+, tracing the origins and development of Industrial Light and Magic, surely one of the greatest special effects company of all time.  I am a sucker for behind-the-scenes documentaries on the making of movies, not to mention the fact that I have always been fascinated by visual effects… and, of course, I also love Star Wars.  So I was a pretty easy mark for this show!  But even with all that, I was impressed by how well-put together this series was.  Perhaps I shouldn't be surprised, as it's directed by Lawrence Kasdan, one of the all-time great movie directors (who also directed The Empire Strikes Back, the very best Star Wars film in my humble and correct opinion).  I wish this was twice as long.  (Click here to read my full review.)
14. Stranger Things season four — After a hiatus of almost three years, Stranger Things returned for its long-awaited fourth season.  I wasn't sure if I'd still be into the show after so much time, but I was happily surprised by how much I enjoyed diving back into this world!  This new season gives us a tense, exciting new adventure, and I was quickly reminded how much I love these characters.  Stranger Things has a huge cast, and it only got larger this year (with the addition of "Hellfire Club" leader Eddie Munson as a standout).  It was great fun to get to spend more time with these kids and follow them through these new stories.  This was also the darkest, most horrific season of the show yet; I appreciate how the show has grown up along with its main characters.  I love how the mythology of this show has really started to come together; we got some big, satisfying revelations this year.  I am excited for the show's conclusion in season five!  I hope we don't have to wait too long!!  (Click here to read my full review of part one of season four, and click here to read my review of the concluding, feature-length episodes.)
13. Hacks season two — I loved the first season of Hacks, which centered on the unlikely, oil-and-water pairing of Deborah Vance (Jean Smart), a Las Vegas stand-up comic who had been a star for decades, and Ava (Hannah Einbinder), the young, opinionated comedy writer who starts working for her.  That first season was a very funny character study mixed with a potent comedy, and Jean Smart and Hannah Einbinder proved to be a spectacular pairing.  Season two was every bit as fun, further deepening these characters and giving them plenty of opportunities to drive one another crazy.  Having Deborah and Ava go out on tour together, and thus be stuck together on the road, was a delicious idea and it immediately paid out many comedic dividends.  I loved seeing these two out in middle America, where both were very out of place.  What's most impressive about the show, and the key to its working as well as it does, is that I found myself rooting not so much for either Deborah or Ava, but for their friendship.  I wanted these two to get along and unite their comedic superpowers in order to take on the world and get everything they deserved!!  I really enjoyed following the arc of their relationship over the course of these two seasons, and I'm glad that here in this second season the show allowed them to (mostly) get along and work together.  The story felt like it came to a very satisfying conclusion at the end of the season; I'd have no objection if this was the end, but apparently the show has been renewed for a third season, so I'm eager to see what's next for these characters!  (Click here to read my full review.)
12. Girls5Eva season two — This silly, zany show (created by Meredith Scardino and produced by, among others, Tina Fey and Robert Carlock) really grew on me.  It shares the madcap, joke-a-second comedic sensibility of Tina Fey's shows 30 Rock and Unbreakable Kimmy Schmidt.  It's a wonderful successor to those great shows.  In the show, Girls5Eva was a 90's girls pop group that had one hit song ("Quit Flying Planes at My Heart," which was unfortunately released on September 10th, 2001), and they broke up shortly thereafter.  But years later, their music gets sampled by a popular rapper, Lil Stinker.  Sensing an opportunity, the four women reunite and try to make another go at musical success.  The main cast is terrific — I loved all four of these crazy weirdos, played by Sara Bareilles, Busy Philipps (Freaks and Geeks), Renée Elise Goldsberry (who originated the role of Angelica Schuyler in Hamilton, and who was so great on She-Hulk), and Paula Pell (who has written for SNL and many terrific comedies, including Bridesmaids and This is 40).  The show even features a lot of catchy (and very funny) original music!  It's funny and sweet and a lot of fun.  (My full review will be coming soon.)
11. She-Hulk: Attorney at Law — Marvel's been on a heck of a run lately with their Disney+ TV series, and they've impressed me yet again with She-Hulk: Attorney at Law.  I found this show to be a delight from start to finish.  This show was touted as Marvel's first sitcom, though I didn't find the approach to be all that different from previous Marvel shows.  Marvel shows and movies have, for the most part, always been fun and funny!  That's part of their charm!  She-Hulk definitely leans a little more into the silly aspects of the show, and it's definitely a little less interested in plot than most other Marvel shows.  (The series does sometimes use a playful TV-show approach to logic, skipping over messy plot details to get right to the fun stuff.  See, for example, pretty much every legal case depicted on the show.)  Overall I think the writers struck just the right approach with the show.  She-Hulk is a half-hour comedy, which makes it closer in form to a sitcom than any other Marvel show, and like a sitcom there's a goofy workplace setting and a fun cast of characters.  This helps the series to feel distinct among the Marvel shows.  (I've never understood the go-to complaint that all MCU movies/shows are the same.  She-Hulk is wildly different than Ms. Marvel, which was wildly different than Moon Knight… etc…)  But at the same time, the series thankfully feels very much of a piece with the MCU.  (So much so that I cannot wait to see She-Hulk get to meet other MCU characters in future shows and movies!!)  Tatiana Maslany is perfection in the lead role as Jennifer Walters/She-Hulk, and she's surrounded by a tremendous supporting cast, including Ginger Gonzaga, Josh Segarra (Orange is the New Black), Renée Elise Goldsberry (Hamilton, Girls5Eva), and the great Mark Linn-Baker (Perfect Strangers, The Leftovers).  I loved all the Marvel connections and guest appearances on the show, including Mark Ruffalo as Bruce Banner/the Hulk, Benedict Wong as Wong, Tim Roth (from the 2008 The Incredible Hulk movie!) as Emil Blonsky/the Abomination… and the absolutely-perfect incorporation into the MCU of Charlie Cox as Daredevil, from the Netflix Daredevil show!!  This show made me so happy.  (Click here to read my full review.)
I hope you'll come back tomorrow as I start my TOP TEN!  Thanks for reading!
Please support my website by clicking through one of our Amazon links the next time you need to shop!  As an Amazon Associate, I earn from qualifying purchases.  That means I'll receive a small percentage from any product you purchase from Amazon within 24 hours after clicking through.  Thank you!