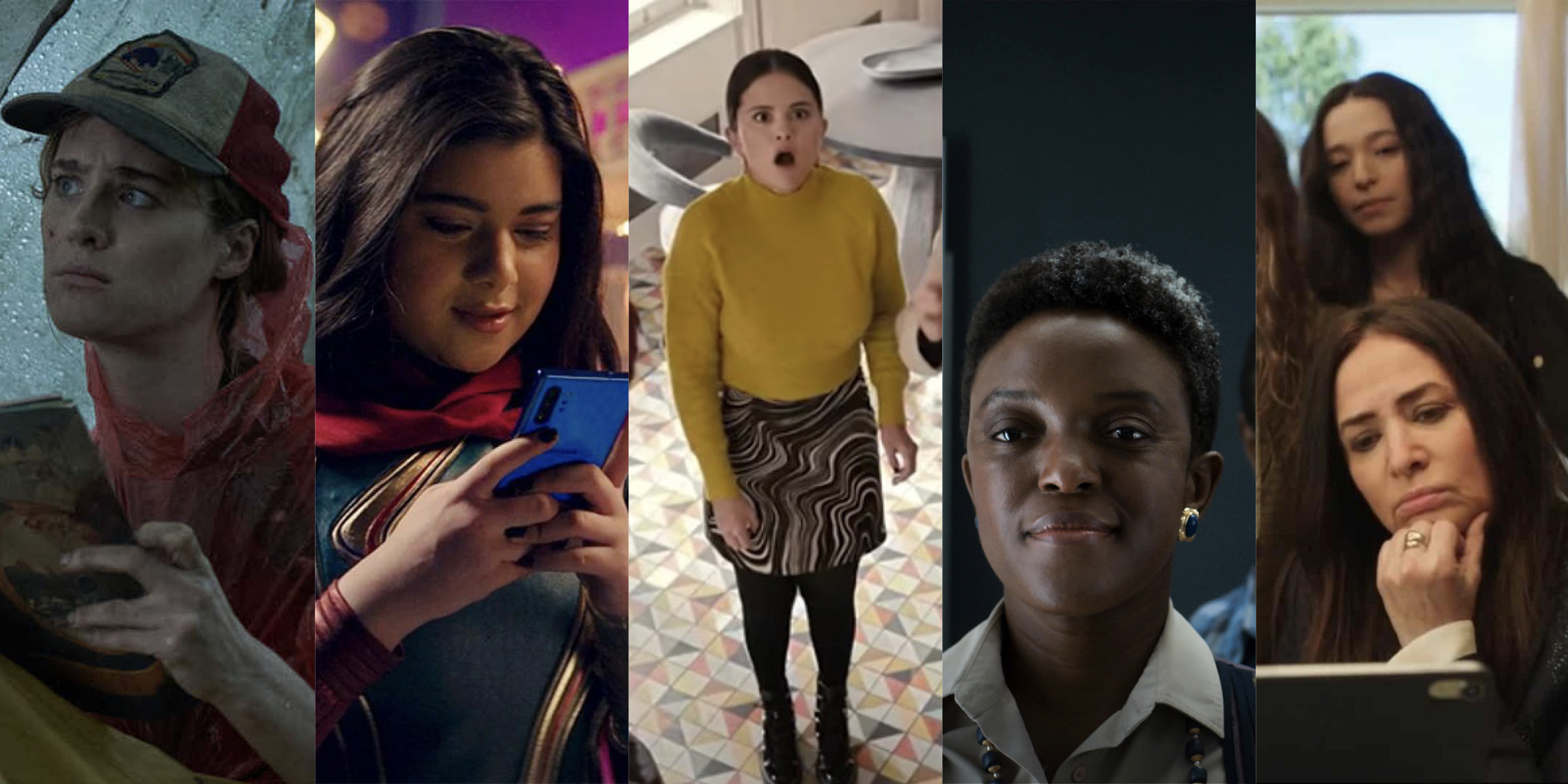 Josh's Favorite TV Series of 2022 — Part Four!
Click here for part one of my list of my favorite TV series of 2022, and click here for part two, and here for part three.
And now, let's enter my TOP TEN list…!
10. Station Eleven — Twenty years after a deadly flu has wiped out much of the world's population, a small group of traveling actors and musicians make their way between the scattered remnants of humanity, performing Shakespeare at the towns and settlements they visit.  As the story unfolds, we follow the lives of a disparate group of people in the days and years before and after the flu pandemic, slowly discovering the complicated ways in which their lives are intertwined with one another.  This adaptation of Emily St. John Mandel's magnificent novel was a beautiful story about art and the enduring importance of creating art even in the face of total catastrophe.  It's also a compelling character study mixed with a post-apocalyptic drama/adventure.  The cast is phenomenal, anchored by a mesmerizing performance by Mackenzie Davis (The Martian, Blade Runner 2049, the "San Junipero" episode of Black Mirror) as Kirsten, the deeply wounded young woman at the heart of the story.  This series stuck with me long after I'd finished watching it.  (Click here to read my full review.)
9. Ms. Marvel — This terrific six-episode series did a tremendous job in bringing to life the Marvel character of Kamala Kahn, a young Muslim Pakistani-American girl who becomes a super-hero.  It's a pleasure to see this relatively new, young character enter the MCU, and it's even more fun to see this Muslim character get to headline her own Marvel TV show.  Between this and Moon Knight, which also featured many Muslim characters and also spotlighted Muslim culture, Arabic music on the soundtrack, etc., it's a pleasure to see the MCU expand into non-white, non-Christian, non-male new characters.  Iman Vellani is astoundingly perfect as Kamala Khan.  Once again, the geniuses at Marvel Studios have hit a casting home run.  Ms. Vellani has a charisma that shines brightly through the TV screen, with an endearing natural quality that makes it feel like she's not acting, but that she just IS Kamala Khan.  The show has an impressively deep bench of supporting characters, played by an array of talented performers.  Kamala's colorful New Jersey neighborhood is a wonderful new sub-section of the MCU.  In all the best ways, there is a lot in Ms. Marvel that feels very Spider-Man to me, in a manner that feels at the same time like classic Marvel but also exciting and fresh.  I wish this series was more than just six episodes!  (Click here to read my full review.)
8. Only Murders in the Building season two — This series remained a near-perfect concoction in its sophomore season.  It's a very funny show that is also a compelling drama and an engaging mystery, whose twists and turns are perfectly paced to carry us through the ten-episode season.  Steve Martin, Martin Short, and Selena Gomez are a spectacularly entertaining trio; the show is at its best when the three of them are on screen together.  At the same time, I love how this second season continued to expand the scope of the show's weird little universe, introducing a ton of wonderful new supporting characters while continuing to develop all the pre-existing ones.  (My favorite episode in season three was the third-episode spotlight on Bunny (Jayne Houdyshell).  I couldn't believe how that episode really made me love Bunny!!)  And does any currently-running show have better theme music??  I adore this series.  I can't wait to find the time to go back and watch it all again from the beginning.  Meanwhile, I am counting the days until season three.  (Click here to read my full review.)
7. For All Mankind season three — For All Mankind depicts an alternate history in which the United States lost the "space race" with the Soviet Union, with the U.S.S.R. becoming the first nation to land a man on the moon in 1969.  That might seem like a grim, dystopian set-up, but one of the (many) things I love about this series is that the show has trended utopian.  (In fact, Ronald D. Moore, who is one of the co-creators of the series, along with Matt Wolpert and Ben Nedivi, has described For All Mankind as "the road to Star Trek."  I deeply love that idea.)  This terrific third season focuses on the exciting and eventful efforts between 1994 and 1996 (in the show's alternate version of history) as the U.S. and the Soviet Union compete in a tense race to land a human being on Mars.  I was fascinated by this show's depiction of how something like this might have played out.  It's the perfect balance of realistic science-fiction with exciting TV adventure.  The season was edge-of-my-seat compelling from start to finish.  The cast is spectacular, and the show's production values are top-notch.  This is the best serious science fiction on television today.  I wish more people were watching it!!  (Click here to read my full review.)
6. Better Things season five — This loosely autobiographical comedic/dramatic show explores the life of Sam Fox (Pamela Adlon), a divorced mom working in Hollywood as an actress and raising her three kids.  Much of the series was based on Ms. Adlon's real experiences raising her three kids and also her life as a successful but not terribly famous woman working in Hollywood.  The show eschews any sort of traditional TV show structure.  There are none of the usual story or character arcs, in an episode or even across a season, the way you might expect.  Many episodes don't even have a singular story for the viewer to follow through the episode; we might get three or four only tangentially connected vignettes, for instance.  Out of this unique and unusual structure comes the show's genius-level ability to make the viewer feel like we're peeking into the actual lives of this family.  These characters and their mostly very small-scale struggles and triumphs feel so REAL to me.  It's an extraordinary achievement, one borne out of Ms. Adlon's incredible writing and directing skills, as well as the tremendous craft of the show's ensemble.  Better Things is also able to superbly balance comedy and drama.  The show is able to go to some deep places, but a big laugh is never too far away.  I'm so sad that this fifth season was the show's final year.  It was a satisfying ending, but I'd have been happy to have been able to continue checking in on Sam and her family for ten episodes a year for the forseeable future.  But I guess that's not how life works.  As Sam herself had to face repeatedly in this final season, time passes, things change, and things — even good things (Better Things) — end.  Bravo to Pamela Adlon and all of the talented people involved in creating this wonderfully beautiful and unique show, behind the camera and in front of it.  (Click here for my full review.)
Thanks for reading this list!  I hope you'll all come on back on Monday for my TOP FIVE favorite TV series of 2022!
Please support my website by clicking through one of our Amazon links the next time you need to shop!  As an Amazon Associate, I earn from qualifying purchases.  That means I'll receive a small percentage from any product you purchase from Amazon within 24 hours after clicking through.  Thank you!