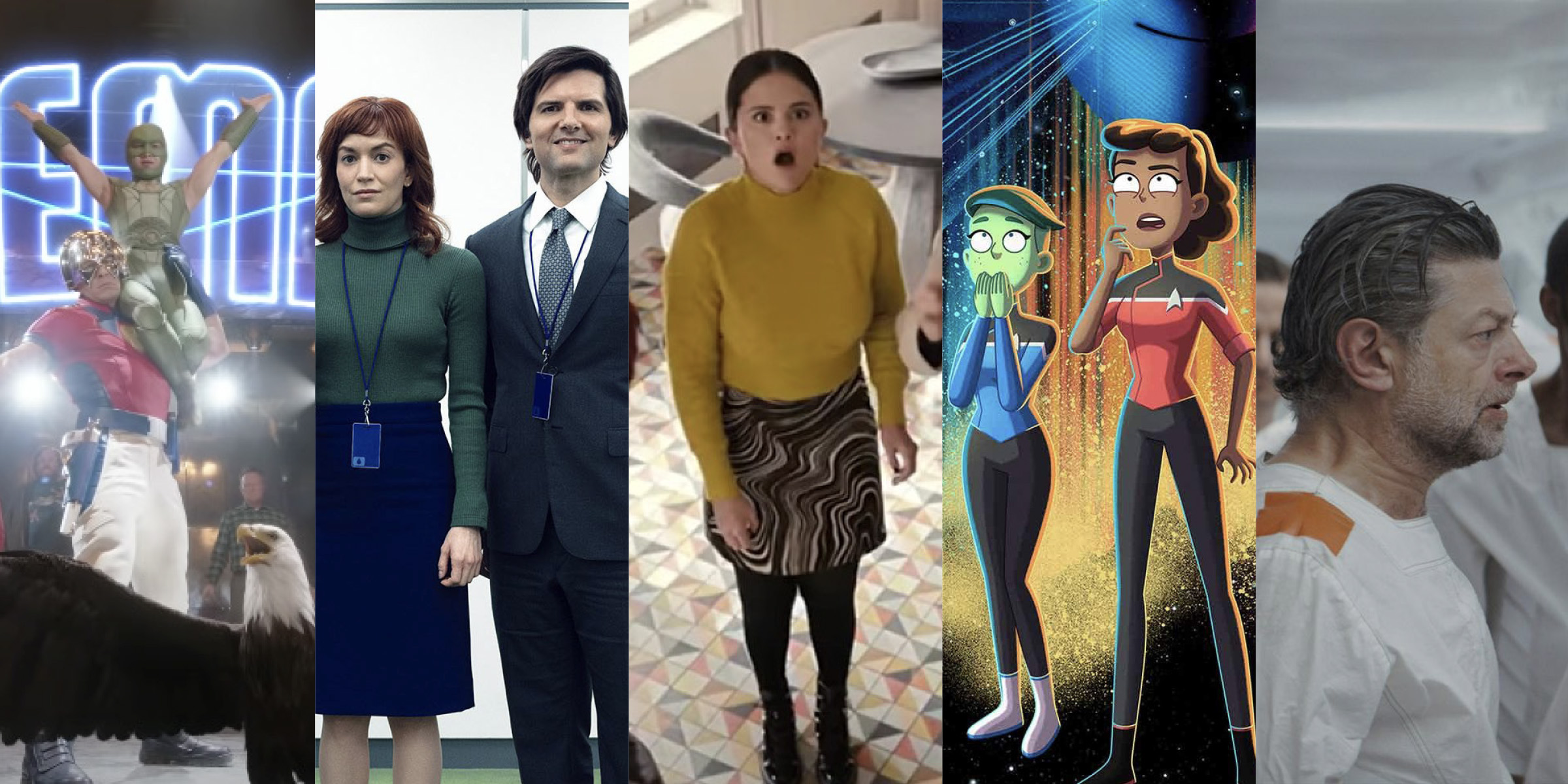 Josh's Favorite TV Series of 2022 — Part Five!
Thanks for reading my list of my favorite TV series of 2022! Click here for part one, click here for part two, click here for part three, and click here for part four.
And now, without any further delay, here are my five favorite TV series of 2022!
5. Peacemaker — I can't believe this show exists.  I can't believe how great it is.  Who'd have thought James Gunn would ever do a TV show?  Who'd have thought the folks at DC/Warner Brothers would ever OK this violent and profane TV show, that's a spin-off of a movie that was mostly ignored (unjustly!!) on its theatrical release?  (If you haven't seen James Gunn's The Suicide Squad film, it's well worth your time.  Ignore the dreadful 2016 Suicide Squad film and dive into Mr. Gunn's rebooted version.)  Peacemaker spins off from The Suicide Squad, focusing on John Cena's character of Peacemaker, the mass murderer who thinks he's a super hero.  ("I cherish peace with all my heart. I don't care how many men, women, and children I need to kill to get it.")  This show is an absolute joy from start to finish.  James Gunn — who wrote all eight episodes and directed five of them — is able to work his unique magic to create something very special.  He's dug deeply into the weird, little-known characters of the DC universe to assemble a show filled with oddballs and misfits.  Mr. Gunn knows exactly how to use these characters in a way that is so, so funny, but that always maintains an emotional realism.  Mr. Gunn has tremendous empathy for all of the broken characters he brings to life on screen.  Every character in the series has an arc, and it's a pleasure watching them learn and grow and change.  I defy you not to fall in love with these characters over the course of these eight episodes.  It's incredible.  And did I mention the show is hilarious?  The series rarely goes a minute without a giving us a laugh out loud exchange or sequence.  And it has the best opening credits sequence of any TV show in years.  (Click here to read my full review.)
4. Severance — I fell deeply in love with this strange, twisty series.  The show is a delightfully clever mash-up of an exploration of a boring, drone-like office job (as seen in shows like The Office or movies like Office Space), with the sci-fi weirdness and mysteries of a show like Lost.  It's a wonderfully compelling combination, and it's brought to life with gorgeously memorable production design a terrific cast.  Adam Scott, John Turturro, Christopher Walker, Patricia Arquette, Britt Lower, Zach Cherry, Tramell Tillman, Yul Vazquez, Jen Tullock, Michael Chernus, and Dichen Lachman are all amazing.  I love each and every one of their characters (even though the show's structure means that there are so many things we don't know about every one of them)!  With each new question answered and each subsequent question posed, I was hooked ever-deeper into this show.  The season-ending cliffhanger was SO PAINFUL.  I can't wait for more.  (Click here to read my full review.)
3. Star Trek: Lower Decks season three — One of the only bright lights for me in (the otherwise pretty much terrible) modern Star Trek has been the delightful animated series Lower Decks.  The show is set during the era of Star Trek: The Next Generation, Deep Space Nine, and Voyager.  It's an in-continuity show, taking place some time after the final Next Gen movie (the terrible Star Trek: Nemesis).  The show's attention to detail is incredible, perfectly recreating the look and feel of those 24th century Star Trek shows that I grew up with.  This is a comedy show that is very, very funny.  But it's not an empty spoof.  It's a "real" Star Trek show!  At the same time, it is incredibly funny, absolutely jam-packed with an incredible joke-per-second ratio.  I love how well creator and show-runner Mike McMahan and his team are able to strike that balance!!  Whereas the other modern Trek shows seem to show an ignorance of (and often even a disdain for) the details of Star Trek continuity, Lower Decks is absolutely seeped in it.  Each episode is overflowing with references to (and jokes about) an array of obscure call-backs to Trek's vast history.  It tests even my deep knowledge of the minutiae of Trek!!  But what makes Lower Decks work is how strong the four main characters are.  At this point in the series, I deeply love and care about Mariner, Boimler, Tendi, and Rutherford, the four young "lower decks" characters on the U.S.S. Ceritos.  It's a pleasure watching their relationships continue to deepen, and to see them each learn and grow as we follow them on their adventures.  (Tawny Newsome, Jack Quaid, Noël Wells, and Eugene Cordero are fantastic in these roles.)  This ten-episode third season was pretty much perfect.  (I just wish it was longer!!)  (Click here to read my full review.)
2. Better Call Saul season six — It's incredibly hard to end a long-running TV show well.  The list of truly great final seasons, and season finales, is very short.  Trying to end a prequel feels to me like an even harder task than ending an original show, because not only does the ending have to be satisfying in its own right, but all the pieces have to come together perfectly to line up with what has come before.  Add to that the fact that Breaking Bad was never better than in its thrilling final season, and you have an apparently impossibly high bar for Better Call Saul to clear.  And yet, they did it.  I'm so impressed by how amazing this final run of episodes of Better Call Saul were.  I was incredibly satisfied with the ending they crafted, and how well they pulled together so many different story threads and character arcs.  It was beautiful to behold.  These final episodes were packed with one thrilling event after another, as we followed so many of the show's great characters to their final fates.  Not only did the show finally catch up to the events of Breaking Bad, but it leapfrogged over that show to bring us to a conclusion of the story of Cinnabon Gene, about which we'd been teased throughout the run of this series.  Was anything more riveting on TV this year than the moment in "Waterworks", the series' penultimate episode, in which — in a long, nearly-silent take — we watch Kim  Wexler completely break down while riding on an airport tram?  What an incredible acting moment.  Rhea Shorn is amazing.  As is the series' star, Bob Odenkirk.  I loved this show.  I miss it already.  (Click here to read my full review of part one of season six, and click here for my review of part two.)
1. Andor — This right here is what I want modern Star Wars to be like.  (I wish modern Star Trek could be this good.)  Andor is the best Star Wars project produced since Disney purchased Lucasfilm, and one of the best Star Wars projects of all time.  It's 100% Star Wars, set perfectly within the Star Wars world and deeply attentive to Star Wars continuity (just look at how skillfully they weaved together our previous glimpses of Mon Montha from Return of the Jedi, Rogue One, and Star Wars: Rebels, to create this gloriously fascinating new version of her) while also telling a story that feels completely fresh and new, without being weighed-down by the baggage of fan-service and too much self-referentialism.  Andor's main character is Cassian Andor, a member of the ensemble of rebellion heroes from the 2016 Star Wars film Rogue One. The show Andor is set about five years prior to Rogue One (which itself took place mere days before the start of the original Star Wars), and one of the many stories it tells is about how Andor came to join the rebellion and become such a true believer in the cause.  But that is just one minor chord in the symphony of stories depicted in Andor.  The series is epic, telling a variety of stories about a variety of characters living under the thumb of the Empire.  (Andor takes place at the height of the Empire's power, years before the Rebellion much of a threat.). The show introduces us to an array of fascinating characters.  Some are suffering under the Empire.  Some are starting to resist, either independently or in the early stages of a larger organization.  And some are cogs in the machine of the Empire's evil reign, helping to enforce its fascistic rule over the galaxy.  Andor is adult and sophisticated.  The series is incredibly intense, building to a series of riveting and stressful climaxes (as each multi-episode arc reaches its conclusion).  The characters feel three-dimensional in a way not often seen in Star Wars.  The writing is terrific, just razor sharp.  This is a show that is able to develop characters and backstory with elegant simplicity.  And the actors are, to the last, absolutely spectacular.  (Seriously, there are at least thirty incredible new characters introduced in this show, and I love each and every one of them.  This is extraordinary.)  It's fantastic to see storytelling and character-development in the Star Wars universe approached with this level of intention and skill.  (OK, I just thought of a TV moment this year even greater than the Kim Wexler breakdown I mentioned above — it's the triumphant, fist-bumping moment at the end of episode nine of Andor, when Andy Serkis' character of prison floor manager Kino Loy threw in his lot against the Empire by saying "never more than twelve".  What a moment!!!)  The production values are extraordinary.  (To compare this amazing-looking show, with so many wonderful sequences filmed on location, with the stage-bound and small-looking Book of Boba Fett, is to see the difference between success and failure.)  I doff my cap to Tony Gilroy and the amazing team, in front of and behind the camera, who brought this incredible show to life.  Thank you.  (Click here to read my full review.)
Please support my website by clicking through one of our Amazon links the next time you need to shop!  As an Amazon Associate, I earn from qualifying purchases.  That means I'll receive a small percentage from any product you purchase from Amazon within 24 hours after clicking through.  Thank you!