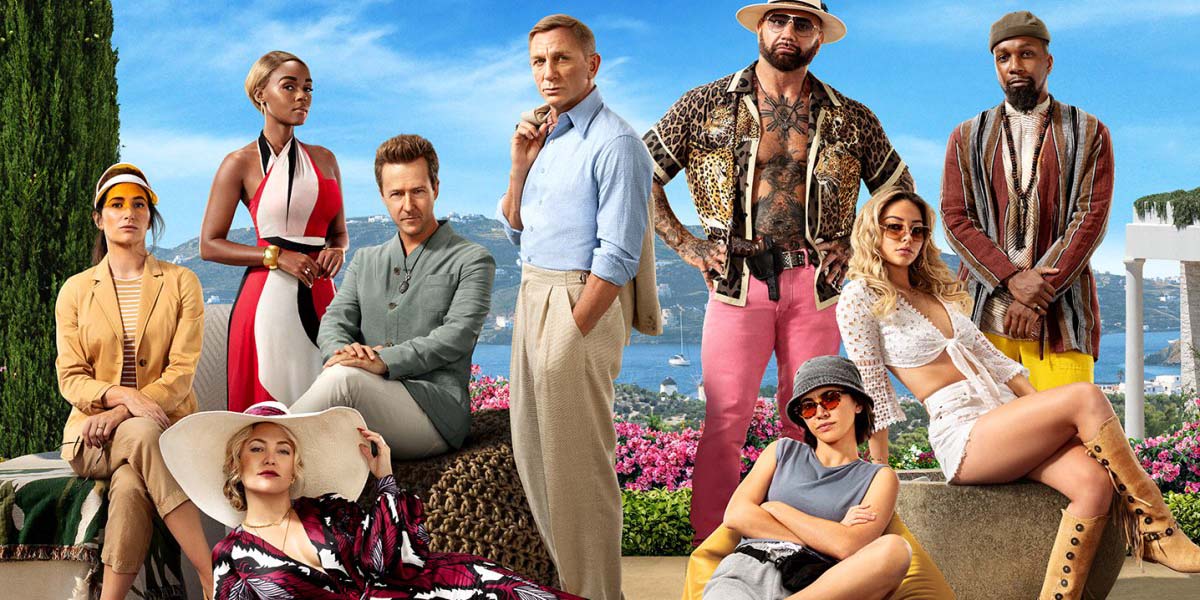 Josh Reviews Glass Onion: A Knives Out Mystery
I adored Rian Johnson's Knives Out, and so I was delighted when I heard he was writing & directing a sequel for Netflix!  Glass Onion: A Knives Out Mystery, does not disappoint — it's a fun, twisty new mystery that tells a fresh story that at the same time feels very much of a piece with the first Knives Out.  This is a tightrope that many sequels are not able to so easily walk!
Set during the early days of Covid (specifically, in May, 2020), the film takes place on the gorgeous private island of multi-gazillionaire tech guru Miles Bron (Edward Norton).  The idiosyncratic Miles has invited several of his closest friends and fellow "disrupters" to his island to celebrate his birthday by playing a murder mystery game with him.  His guests include: the head scientist for Miles' tech company, Alpha, Lionel Toussaint (Leslie Odom Jr.); former supermodel Birdie Jay (Kate Hudson); outspoken male-centric internet personality Duke Cody (Dave Bautista); and Connecticut governor and current Senate candidate Claire Debella (Kathryn Hahn).  Weirdly, two others have also been invited: Miles' former partner in Alpha, who he recently forced out, Andi Brand (Janelle Monáe); as well as the world's greatest detective Benoit Blanc (Daniel Craig).  When an actual murder happens, Blanc's skills are dearly needed…
I loved Glass Onion almost as much as I loved Knives Out.  Mr. Johnson has crafted a delightful new mystery, whose twists and turns kept me constantly guessing.  (I'm pleased that I was not able to guess the film's ending, though Mr. Johnson played completely fair with the audience and did, in hindsight, plant plenty of clues.)  The film is a suspenseful murder mystery that is, at the same time, extremely funny.  I love how well Mr. Johnson is able to balance the film's tones.
It's intriguing to see a film so definitively set during the Covid pandemic.  (Most recent movies have chosen to avoid directly addressing Covid.)  It's also fascinating to see a film focused on a less-than-idealized, ultra-rich tech giant at a time in which Elon Musk has been dominating the news.  (Obviously Glass Onion was written and filmed well before Mr. Musk's acquisition of Twitter; nevertheless, there's fascinating synchronicity in the timing of the film's release.)
It's joyous to see Daniel Craig return to the role of Benoit Blanc.  His accent remains as wonderfully bizarre as ever, and Mr. Craig has been able to maintain the careful balance in his performance between allowing Blanc to be as bizarre as all of the weirdos he's investigating, while also being incredibly sharp and fiercely intelligent, able to notice all of the details around him.  I was also pleased that this film confirmed (albeit very briefly), what many of us had suspected from the first film, that Blanc is gay.  (I was thrilled to see Hugh Grant pop up for a second as Blanc's partner.  I hope we see lots more of him in future sequels!)
As was the case in Knives Out, Mr. Johnson has surrounded Blanc with an array of extraordinarily fun and memorable loony-tunes, each of whose role was wonderfully written and brought to life by a tremendous actor.
Edward Norton (Fight Club, Moonrise Kingdom, Birdman) is perfect as the daffy, uber-rich Miles.  Mr. Norton's intensity is nicely tempered by the exact-right amount of gentle silliness to create this very funny character.  Kathryn Hahn (Anchorman, Wanderlust, Bad Words, Spider-Man: Into the Spider-Verse, WandaVision) has always been one of my favorite comedic actresses, and she's a joy here as the straight-laced politician Claire.  On the surface, Claire seems more centered than the rest of Miles' guests, but we quickly learn there's more to Claire than she wants the world to see.  Dave Bautista has been very funny as Drax in Guardians of the Galaxy (he was terrific in the recent Guardians of the Galaxy Holiday Special), though he's more often cast for his physicality (Spectre, Blade Runner: 2049).  That's partially the case here too, but it's fun to get to see Mr. Bautista create a very different type of character here in Duke.  He's skillfully able to allow Duke to be a little funny and also a little scary.  I found Lionel, played by Leslie Odom Jr. (Hamilton, Murder on the Orient Express, One Night in Miami…) to be, at first, more likable than the others.  A lot of that is due to Mr. Odom Jr.'s inherent grace and charisma.  I enjoyed getting to explore more about who this guy is as the story unfolded.  Like most of the world, I first encountered Kate Hudson in Almost Famous; her performance in that movie still holds up as incredible work when viewed today.  Ms. Hudson has starred in many movies since then, though few that I've seen.  But she's perfect here as Birdie Jay, who has aged out of being a super-model and who is trying to reinvent herself as a fashion designer, but whose habit of unfortunate social media posts keeps getting her into hot water.  Jessica Henwick was the best thing about the Netflix Iron Fist show (where she played Coleen Wing), and though she's popped up in other big franchises (she was Bugs in The Matrix: Resurrections, Nymeria Sand on Game of Thrones, and an X-Wing pilot in The Force Awakens), I've been waiting for her to be better-used.  She's terrific here as Birdie Jay's put-upon assistant, Peg.  Madelyn Cline is great as Duke's beautiful young girlfriend Whiskey, who's just as much a social climber as everyone else in Miles' group.
And then there is Janelle Monáe as Miles' bitter ex-business-parter Andi.  I've enjoyed Ms. Monáe (who identifies as non-binary)'s work in films such as Moonlight and Hidden Figures, but she's operating at an entirely different level here.  She's terrific, able to craft such a wonderfully complex character.  I won't spoil the film's many twists and turns, but I'll say that I enjoyed how both here and in Knives Out, the story wound up centering on an intelligent, brave young woman.
Other thoughts:
I'm a huge Beatles fan, so I loved this film's title.  (I was very happy to hear Glass Onion play over the closing credits… and I smiled to hear Miles playing a few bars of Blackbird when he's sitting on the beach as his guests arrive.)  The metaphor for something hidden, but also in plain sight, works perfectly with the film's story.  (The song Glass Onion is also all about the "Paul is Dead" mystery, which of course is a fictionalized, mysterious death, so that layer also works perfectly with the film!)
Noah Segan (who was also in Knives Out, albeit playing a different character) is funny in his small roll as Miles' random house-guest, Derol.
It's funny that Ethan Hawke is only in the film for a few seconds, as Miles' assistant!
I loved the choices for Benoit's pandemic Zoom buddies, including Natasha Lyonne, Kareem Abdul-Jabbar, and, sadly, two people who passed away before the film was released: Stephen Sondheim and Angela Lansbury.
I had high hopes for Glass Onion, and I am pleased that the film did not disappoint!!  This is a movie that I am already excited to watch a second time.
Please support my website by clicking through one of our Amazon links the next time you need to shop!  As an Amazon Associate, I earn from qualifying purchases.  That means I'll receive a small percentage from any product you purchase from Amazon within 24 hours after clicking through.  Thank you!