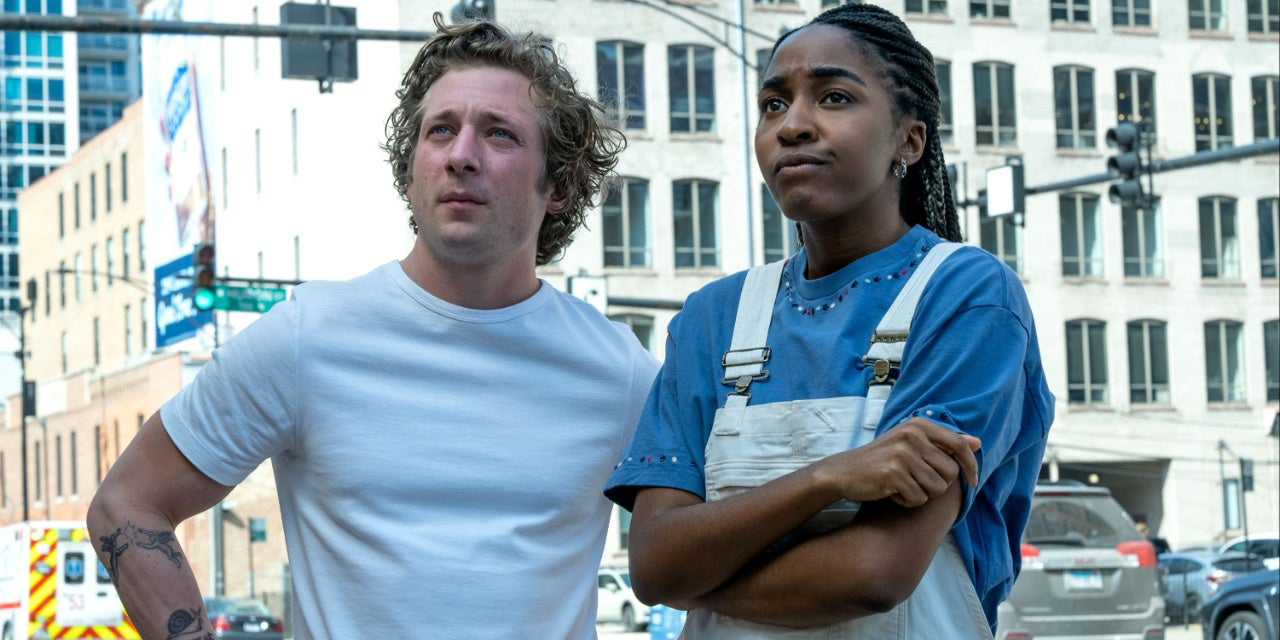 Josh Reviews The Bear Season Two
It was only a few months ago that I watched, and was blown away by, the first season of The Bear.  (Click here for my review!)  Created by Christopher Storer (who wrote six of the ten season two episodes, and co-directed three of them), the series follows Carmy, a talented chef who returns to his hometown of Chicago to take over the small sandwich shop that was run by his brother Mikey, who committed suicide.  At the end of season one, Carmy and the endearingly motley crew of "Original Beef of Chicagoland" decide to reopen and reinvent the restaurant as "The Bear."  Season two chronicles their months-long effort to renovate and reopen the restaurant, culminating in a stressful opening night.
I loved season one of The Bear and season two was as good, if not better, than that first season!!  I thought we'd cut ahead to the reopening of the new restaurant, so that we'd get lots more sequences of the tense life in the kitchen of a working restaurant.  Those scenes were the hallmark of season one.  So I was surprised, but pleasantly so, that that did not turn out to be the case.  Instead, as I just noted in my above description of the season, this entire season tells the story of the gang's very difficult and complicated work in trying to reopen their restaurant.  That proved to be a wonderful fountain of stories that were very different from (but still of a piece with) the stories told in season one.
Jeremy Allen White remains magnetic and compelling as the talented but messed-up Carmy.  I liked the move of giving Carmy a love-interest this season, the lovely Claire (Molly Gordon).  Carmy doesn't seem like someone who's ever had a good work-life balance, and it was interesting to see him try (and repeatedly fail) to balance his focus on creating his new dream restaurant with giving Claire the love and attention she deserves.  This storyline also helped dig deeper into the heart of Carmy's problems; his basic feelings of low self-worth that so often cause him to self-sabotage.  I liked getting to follow Carmy and Sydney (Ayo Edebiri) as they tried to find their way (again, not always successfully) to a healthy and successful partnership.  Ms. Edebiri is so wonderfully watchable as Sydney.  She brings so much depth of emotion into those large eyes of hers!  I loved how deeply the show dug into Sydney as well this season, exploring her own flirtations with self-sabotage as she struggles with the stress and anxiety of her chosen profession.
I loved the whole ensemble of this show in the first season.  I couldn't believe how much I loved all those characters by the end of those eight short episodes!  My love for them only deepened here in season two.  I was thrilled to see the time given to explore and develop the supporting characters.  So we get to see Tina (Liza Colón-Zayas) and Ebra (Edwin Lee Gibson)'s different reactions to getting to go to a culinary school to hone their craft.  We get the wonderful episode in which Marcus (Lionel Boyce) travels to Copenhagen to apprentice with a talented pastry chef.  I can't believe how much I grew to love Fak (Matty Matheson) by the end of this second season!!
But the truly great miracle of this second season was how thoroughly they managed to redeem the character of Richie (Ebon Moss-Bachrach).  Don't get me wrong, I loved "Cousin" Richie in season one!!  But Richie was always depicted as a huge pain in the ass.  The opening of season two leaned into that side of him.  But then, wow, what a journey they took Richie on this season!!!  Watching this season's episodes, I developed a lot more empathy for Richie and everything he'd been through.  Episode seven, "Forks", did an incredible job of showing us Richie's discovery (or was it a rediscovery?) of his own self-respect and self-worth.  That was an amazing episode.  By the end of the season, I think I was rooting more for Richie than any other character on the show!!  (Richie certainly came out looking a lot better than Carmy did in the season finale…)
By far the standout episode in season two was episode six, "Fishes".   This super-sized episode (almost an hour and a half, about triple the length of an average episode) flashed back to show us a Christmas dinner of Carmy and his family, about five years before the events of the series.  It was incredible to see the entire ensemble gathered together, including the return of Jon Bernthal as Mikey.  And we got some incredible guest-stars, most notably Jamie Lee Curtis as Carmy's mother Donna.  What a knock-out, scene-grabbing performance Ms. Curtis delivers!!  It's an extraordinary piece of work.  Seeing the mentally-ill Donna, and what a mountain of a personality she was, does a tremendous amount in helping us as the audience develop empathy for Carmy (along with Natalie, Richie, Mikey, and everyone else in their extended family) as we begin to understand the forces that shaped them.
Jamie Lee Curtis wasn't the only incredible guest-star in that episode, though!!  We also got Bob Odenkirk as Uncle Lee, Sarah Paulson as Carmy's cousin Michelle, and — huge surprise!! — John Mulaney as Michelle's sweet and somewhat awkward boyfriend Stevie.
"Fishes" was the most important episode of the season, I think — and also the most tense!!  This was the episode that most put me back into the stress of so many of season one's best scenes.
I was thrilled to see Oliver Platt back for several appearances this season as Carmy's Uncle Jimmy.  Carmy's sister Natalie (Abby Elliott) became a regular member of the ensemble this year, and a welcome one, as Natalie became a full partner with Carmy in running The Bear.  I loved getting to know Natalie better this season.  She was a terrific addition to the show's main cast!!  Will Poulter (who recently played Adam Warlock in Guardians of the Galaxy vol. 3) was fantastic in his guest-appearance as Carmy's old buddy who mentors Marcus in Copenhagen.  The great Robert Townsend was wonderful in his handful of appearances as Syd's father.  I also loved seeing Olivia Colman (The Night Manager, Murder on the Orient Express) as the head chef at the restaurant where Richie works in "Forks".  Her one scene was incredible!
My only objection to this terrific season of television came in the season finale.  (SPOILERS ahead in this paragraph, so beware!!)  I rolled my eyes at Carmy's accidental break-up with Claire, while trapped in the walk-in fridge.  That felt too "sitcom-y" to me.  There were plenty of legitimate reasons for Claire to dump Carmy!  He'd given her plenty of cause, particularly in that episode!  I didn't care for what felt to me like the too-silly coincidental plot device that Carmy doesn't realize Claire is listening to him talk.
The season ended on more of a cliffhanger than I'd expected, with many of the characters at serious odds with one another.  It was sad to see things take such a turn into the negative.  I very much hope we'll get a season three of this great show!!
Please support my website by clicking through one of our Amazon links the next time you need to shop!  As an Amazon Associate, I earn from qualifying purchases.  That means I'll receive a small percentage from any product you purchase from Amazon within 24 hours after clicking through.  Thank you!