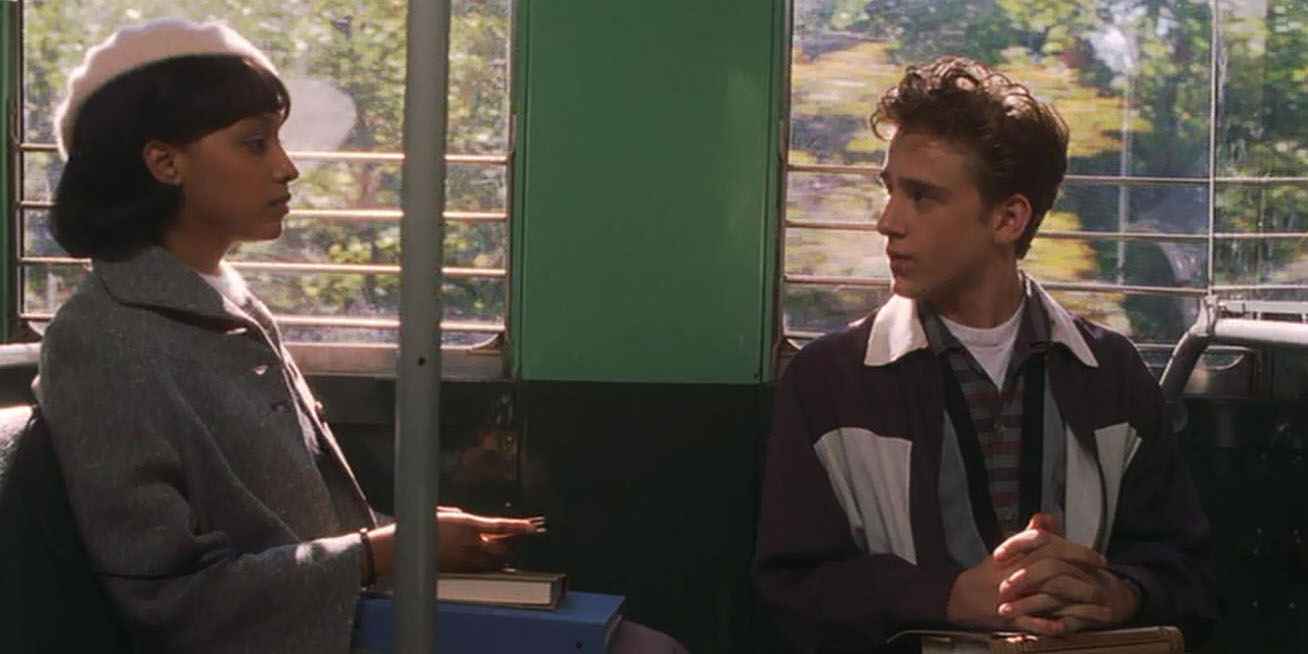 Revisiting Barry Levinson's Liberty Heights
After rewatching Barry Levinson's Diner (1982) and Avalon (1990), I couldn't resist moving on to rewatch Mr. Levinson's 1999 film Liberty Heights.  Written and directed by Mr. Levinson, Liberty Heights is another semi-autobiographical look back at his youth in Baltimore.  The film is set in 1954 and follows a dramatic year in the life of the Kurtzmans, a Jewish family who live in Forrest Park, a predominantly Jewish suburb of Baltimore.  Nate Kurtzman (Joe Mantegna) is the patriarch of the family; he runs a burlesque house and also a small numbers racket.  Ada (Bebe Neuwirth) is Nate's wife.  Their kids are Van (Adrien Brody) and Ben (Ben Foster).  Van has his heart set on a beautiful, blonde, not-Jewish girl named Dubbie (Carolyn Murphy), whom he meets and flirts with at a party at the home of one of the wealthy kids in town.  Ben, meanwhile, is equally smitten with another not-Jewish girl: Sylvia (Rebekah Johnson), one of the first African-American students at their newly-integrated high school.
While Liberty Heights might not be quite the masterpiece that Diner and Avalon are, I think it's a terrific film, one that I wish was better remembered these days.
Once again, Mr. Levinson has assembled a phenomenal cast.  (Though, as was the case in Avalon, I wish that a few more of these Jewish characters were played by Jewish actors.)  Joe Mantegna is wonderful as the head of the family, Nate.  (This isn't the first time Mr. Mantegna played a Jewish character; he also starred in David Mamet's terrific 1991 film Homicide).  Mr. Mantegna is a powerful on-screen presence.  We can see why he looms so large in his sons' eyes.  Adrien Brody is terrific here as Van (several years before 2002's The Pianist would shoot him to stardom).  I like how he plays Van.  We see Van's restlessness, and his longing not to be trapped in the Jewish suburban world where he grew up.  But Mr. Brody doesn't oversell this or make Van too hyperactive or whiny; actually, he gives Van a quiet strength that is admirable and made me really root for him in the film.  Ben Foster (who grabbed my attention when he played Angel in 2006's X-Men: The Last Stand, and who has continued to do great work in such films as 3:10 to Yuma and Hell or High Water; and of course I also loved him as Eli on Freaks and Geeks) is very endearing and entertaining as Ben.  Ben truly feels like the main stand-in for Mr. Levinson's own youth.  (Is that just because Ben in the film wants to be a writer, as Mr. Levinson would become?  In that respect, Ben reminds me a lot of Eugene Morris Jerome from Neil Simon's plays & movies Brighton Beach Memoirs, Biloxi Blues, and Broadway Bound.)  In less-talented hands, Ben might have felt like he was a bit too much, but Mr. Foster always keeps him grounded and likable.  Bebe Neuwirth (Lilith on Cheers) has far less to do in the film than any of these three male Kurtzman family members (it's one of the film's most glaring weaknesses that Ms. Neuwirth's Ada doesn't have her own main storyline), but she's terrific, bringing life to every scene she's in.
The supporting cast is great as well.  I loved seeing David Krumholtz (The Ice Storm, Serenity, The Deuce) as Van's friend Yussel, and Kevin Sussman is fun as Van's friend Alan.  Evan Neumann and Gerry Rosenthal are also strong as Ben's main buddies, Murray & Sheldon.  Orlando Jones (Office Space, Magnolia, American Gods) is tremendously charismatic and memorable as "Little Melvin", who becomes an enormous thorn in the side of Nate Kurtzman.  Anthony Anderson is very funny in a few scenes as Scribbles, Little Melvin's right-hand man.  Rebekah Johnson is marvelous as Sylvia; she's so naturalistic and likable.  (I'm sad to discover that Ms. Johnson didn't do much more acting after this!)  Justin Chambers is terrific as Trey; he takes what could have been a one-dimensional spoiled rich kid role and makes him far more complex and interesting.  Mr. Chambers is so charismatic, we can see why Van becomes friends with him despite everything between them.  (In the early going, when we see Trey ignore his girlfriend Dubbie and drunkenly crash his fancy car, I thought the film was setting him up to be a villain; I was pleased that the film wound up taking a far more nuanced approach to his character.)  Carolyn Murphy was apparently a model with almost no previous acting experience, but I think she's great as the beautiful and elusive Dubbie.  Richard Kline and Vincent Guastaferro bring a lot of life to their relatively small roles as Nate's main assistants in his various not-so-legal undertakings.  I also loved Charley Scalies, who played Nate's heavy-set "muscle", Louie.  James Pickens Jr. (who for me will forever be Kersh on The X-Files) is great as Sylvia's stern father.  And Frania Rubinek is very funny throughout the film as Grandma Rose.
Both Diner and Avalon centered on Jewish characters, and both films included plenty of details that brought those Jewish characters to life on screen.  At the same time, Liberty Heights feels different to me in that the Jewishness of the Kurtzman family is a major focus of the storylines the characters go through.  This film deals with Anti-Semitism and the difficulties that a Jewish family faced in the fifties in a way that neither Diner nor Avalon got into.  It's interesting to see Mr. Levinson wrestle with these issues in this film; to me, it's one of the most compelling aspects of the story.  These ideas are front-and-center in the film right from the start, as Van and his pals Yussel and Alan venture out of their Jewish neighborhood to go to the party being thrown by the wealthy, non-Jewish kids on the other side of town.  We can see the three try (and fail) to disguise their Jewishness; Yussel gets immediately called out, and winds up getting into a fight.  One of the film's most memorable scenes is the funny but sad conversation that Ben and his friends have about the "No Jews, dogs, or Negroes" sign at the local waterfront.  (Ben and his buddies discuss how whoever made that sign came up with that particular order.)
As was the case in both Diner and Avalon, I was pleased that none of the main Jewish characters in the film were portrayed as weaklings, or as the stereotypical sorts of nebbishy, glasses-wearing Jews we so often see in American media.  Van and Ben are both relatively tough and fearless.  Their dad Nate is basically a gangster — he's not a nervous pushover, he's a tough and smart fellow making his living on the edges of the law.  Even Van's friend Yussel (David Krumholtz), whose name and appearance makes him one of the most recognizably Jewish characters, and who edges closest to the more cliche, familiar type of Jewish character we see so often on screen, is a fighter who won't let himself get pushed around or humiliated, even when he knows he's going to get beat up for standing up for himself.  I like seeing these kinds of Jewish characters!
As with Avalon, the film explores how the changing times affected the characters in the film.  This plays out in the film in many different ways.  The integration of African-American kids (most notably Sylvia) into Ben's school is probably the most important aspect of this.  (It's interesting to see how both Ben and Sylvia's parents are horrified at the idea that the two might begin a romantic relationship.)
The film's poster features all of the kids — Van and Ben and their various friends, and the young women they were pursuing.  So when watching the film, I was pleasantly surprised by how major a story their dad Nate (Joe Mantegna's character) had, as well.  Nate has a significant subplot that also explores how the times, they are a-changing.  Early in the film, Nate realizes that the burlesque business is not going to last much longer (with the arrival of television).  His interactions with Little Melvin (and the difficulties that Melvin, as an African American, has when he tries to take over the numbers game in the neighborhood and runs into rejection from the white people he has to deal with) provide yet another interesting exploration in the film of the way African-Americans were (and are) dealing with many of the same challenges the film's Jewish characters were (and are).  I appreciated these different levels of the film.
I also have to mention that I loved seeing the diner from Diner make an appearance!  It's fun to imagine that all of these films took place in the same "universe" and that Eddie, Shrevie, Boogie, Billy, Modell and Fenwick might have bumped into Ben and Van and their friends one night at the diner.
Liberty Heights is not one of Barry Levinson's better-known works.  The film was mostly ignored at the box office when it was released (and its failure has resulted in Mr. Levinson's being apparently unable to make any follow-up films that might return to these sorts of autobiographical Baltimore stories).  But I think it's a strong movie with a lot to say.  I'm happy to have revisited it.
Please support my website by clicking through one of our Amazon links the next time you need to shop!  As an Amazon Associate, I earn from qualifying purchases.  That means I'll receive a small percentage from any product you purchase from Amazon within 24 hours after clicking through.  Thank you!