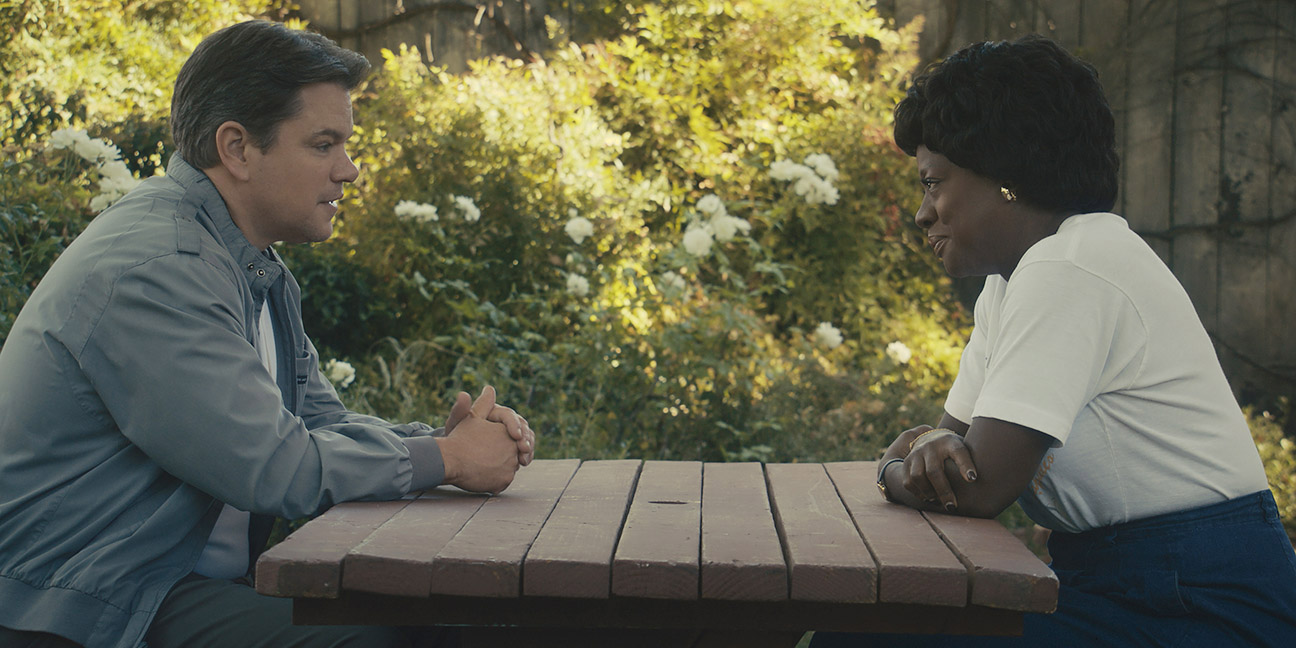 Josh Reviews Air
Air tells the story of the team at Nike who, in 1984, were involved in the creation of the wildly popular Air Jordan sneakers.  At the time, Nike was a minor player in the basketball shoe market, lagging far behind Converse and Adidas.  But Nike's talent scout Sonny Vaccaro becomes convinced that he can turn everything around if they can convince Michael Jordan — who had not yet played a single NBA game — to sign with them.
Air is a terrific film!  I love "process" stories, and this peek into the behind the scenes process that led to the creation of the Air Jordan sneakers was fascinating and fun.
It's a pleasure seeing Ben Affleck back as a director.  I thought Mr. Affleck's directorial debut, 2007's Gone Baby Gone, was a masterpiece, and I enjoyed every subsequent film he directed until 2016's Live by Night, which I thought was a misfire.  But here with Air, he's shown he hasn't lost a step.  Mr. Affleck seems to have great skill in working with his actor, and he's assembled a phenomenal on-screen team for this film.  He also has a strong comedic sense, which is particularly important here in Air.  This story, in lesser hands, could have been dry or boring.  Much of the film is basically meetings in dingy office spaces.  But Mr. Affleck keeps the tone light and the pace zipping along.  This film is a lot of fun to watch!
The script by Alex Convery is strong, and the story is brought to life by a wonderful ensemble of actors.  Matt Damon is terrific in the lead role as Sonny.  We can see right from the start that Sonny is a bit of a mess; he's a gambler and a schmoozer and a bit overweight.  (And he seems to have a habit of buying himself dinner at a local convenience store.)  But we also see how passionate he is for his work, traveling the country to find talented young basketball stars.  This passion is what makes Sonny so easy for us to root for.  That and that he seems truly good at his job.  He knows what to look for, and when he hooks into Michael Jordan — after repeatedly watching tape of Jordan's making a game-winning shot — he alone seems to grasp a strategy for Nike to set itself apart from its competition by throwing the full weight of the company behind Jordan.  Ben Affleck plays Nike CEO Phil Night, and it's a very fun performance.  His wonderful outfits create an indelible character without Mr. Affleck having to say a word!  But that's not to undersell Mr. Affleck's work on screen.  One can see that he's having a lot of fun.  It's a pleasure to see Mr. Damon and Mr. Affleck collaborating, and sharing scenes together.  There's always a special dynamism when they're on screen together.  (If you missed The Last Duel, go watch it!  That's a much heavier film than this is, but Mr. Damon and Mr. Affleck are phenomenal on-screen together.)
Jason Bateman is perfect as Nike's Marketing VP Rob Strasser.  Mr. Bateman brings a lot of warmth and humanity to Strasser; Mr. Bateman is so natural in his delivery, and he has great chemistry with Matt Damon.  Chris Tucker is terrific as Howard White.  Mr. Tucker sparkles with energy whenever he's on-screen, but he keeps himself just reined in enough that he's perfectly convincing.  (And it's interesting to see Mr. Tucker bring a little pathos to this role; there's a scene late in the film in which Mr. Tucker's Howard has to break a piece of bad news on the phone to Matt Damon's character, and Mr. Tucker is just perfect in the scene.)  Chris Messina (The Newsroom, Birds of Prey) is tremendous fun as Michael Jordan's brash agent David Falk.  (Mr. Messina was one of the bright lights in Live by Night — I'm so glad Mr. Affleck brought him back for this role.)  Marlon Wayans has a small but important role as George Raveling, who coached Michael Jordan in the Olympics.  Mr. Wayans is fantastic; like Mr. Tucker he reins himself in just enough to convincingly inhabit this character while still allowing his banter with Matt Damon's Sonny to sparkle.
Then there is the great Viola Davis (Fences, Ma Rainey's Black Bottom), who is tremendous as Michael Jordan's mother Deloris Jordan.  I love the way Ms. Davis plays Deloris.  We can see how sharp she is, and how tough.  But we also see her open-mindedness and her creative thinking.  I like that the film doesn't present Deloris as an adversary to Matt Damon's Sonny.  Convincing Deloris that Nike is right for Michael is Sonny's central challenge in the film, but the film wisely doesn't portray her as his enemy in the way a lesser movie might have.  Actually, one of my favorite aspects of the film was how it portrayed the burgeoning relationship between Sonny and Deloris.  Their phone call at the end of the film is a spectacular showcase for both actors.  (And Mr. Affleck clearly knows it, allowing the conversation to unfold in a series of tight close-ups on Ms. Davis and Mr. Damon.)
One of my favorite sequences in the film is the opening, which is a brilliant montage of famous imagery from 1984.  It does a great job at setting up the era in which the film takes place, and creates a tone of both nostalgia and silliness that is a great launch to the film's story.
I've read some grumbling on-line that this story about Michael Jordan's culture-shaking Air Jordans is focusing on a bunch of white guys, instead of Mr. Jordan himself.  That's a fair criticism; I'd love to watch a version of this story with Michael's experiences at the center.  But Mr. Affleck and screenwriter Alex Convery have not set out to tell that particular story — they have very clearly and intentionally made a movie that's telling a very different story.  That's OK!  This is a movie about the people at Nike's whose names the public doesn't know (except maybe Phil Night), but who were a part of this cultural moment.  I think that's a clever and interesting approach.  And, that being the approach taken, I think Mr. Affleck made a great choice to keep Michael Jordan himself out of the film.  Until a sequence towards the end in which we see some clips of the real Michael Jordan, we don't really see Michael in this film.  We get to see his parents, but Michael himself is mostly off-screen.  This works well.  Michael Jordan is so well-known that I think seeing an actor impersonating him would feel fake and take the audience out of the movie.  And it works for the story to keep Michael Jordan as an unknowable figure, just out of reach of the Nike employees we're following.
Air is a delightful and entertaining film.  I'm glad to have seen it!
Please support my website by clicking through one of my Amazon links the next time you need to shop!  As an Amazon Associate, I earn from qualifying purchases.  That means I'll receive a small percentage from any product you purchase from Amazon within 24 hours after clicking through.  Thank you!