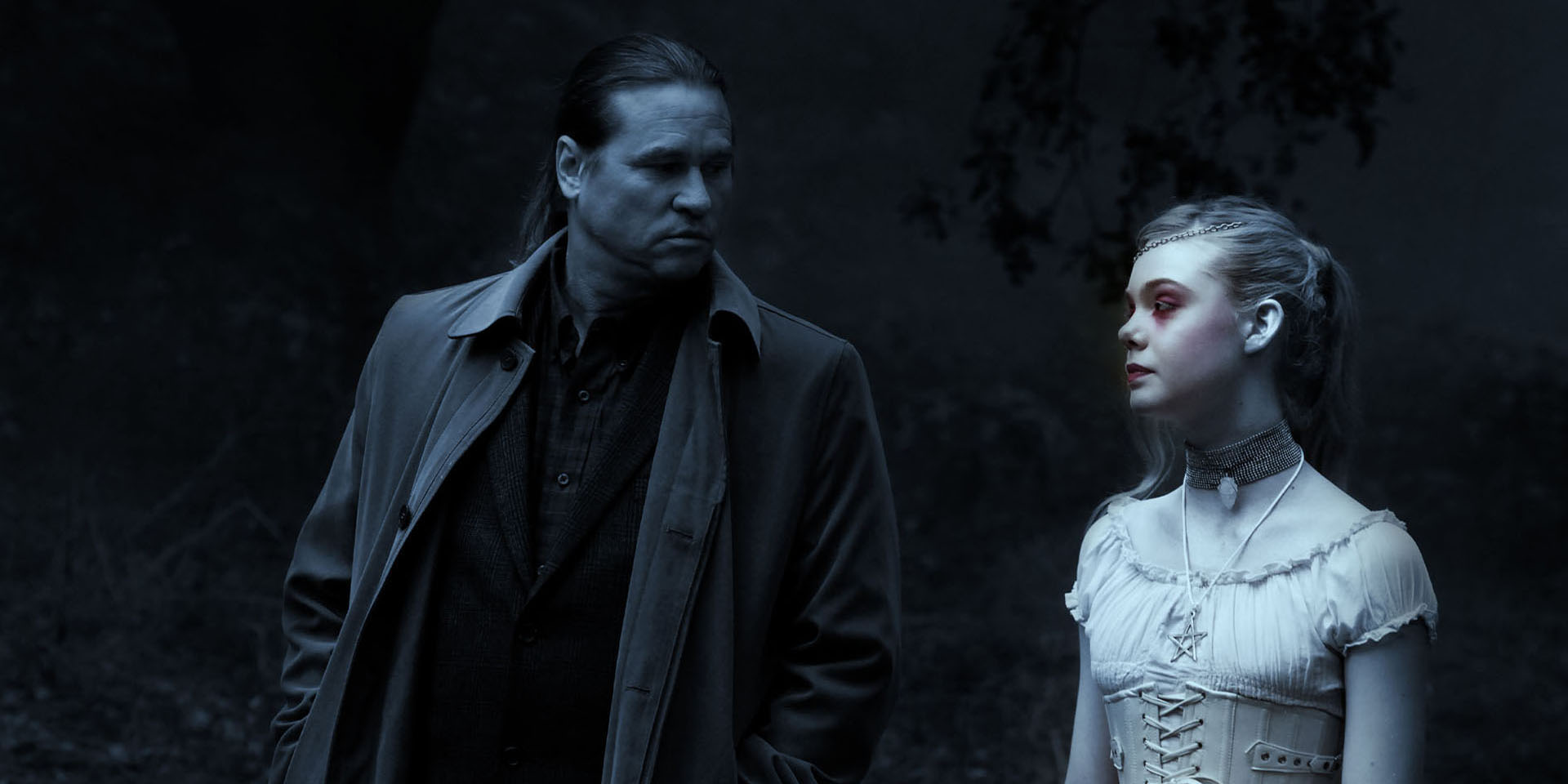 Josh Reviews B'Twixt Now and Sunrise: The Authentic Cut
I never saw Francis Ford Coppola's 2011 horror film Twixt.  I remember being intrigued by the idea that Mr. Coppola had written and directed a horror film with some 3D sequences.  And I'd read that he had some wild ideas about taking the film on tour and doing a live re-editing of it each night.  That all sounded fascinating to me (though I never understood how that would work), but the film never got a theatrical release in the U.S., and it was mostly savaged by critics.  When a new edit of the film was released on blu-ray earlier this year, this time called B'Twixt Now and Sunrise, and labeled The Authentic Cut, I jumped at the chance to check it out.  Mr. Coppola has directed some of my all-time favorite films, true masterpieces such as The Godfather and The Godfather Part II, The Conversation, and Apocalypse Now.  I know that his output has been inconsistent in recent years, but a new work of his is always of interest to me.  (And Mr. Coppola has a habit of revisiting and reworking his films years later, usually for the better.  In the last few years, I've watched and enjoyed his updated versions of The Godfather Part III, The Outsiders, and The Cotton Club).
In this film, Val Kilmer stars as a washed up horror author, Hall Baltimore.  He's desperate for money; his "book tour" consists of his driving around to small towns with several boxes of his novel in the back of his car.  In the latest tiny town he visits, Hall is met by the local Sheriff, Bobby LaGrange (Bruce Dern), who tells him about a recent murder in which a young woman was impaled.  LaGrange thinks this would be a great basis for a horror novel and, fancying himself a writer, he tries to convince Hall to let him co-write the book with him.  Hall at first scoffs at the idea, but he starts to get swept up in a variety of strange events in the town, mostly centered around a horrific mass-murder that took place at a local hotel years earlier.  Hall starts to see visions of a young girl named V (Elle Fanning), who might be the ghost of one of the murdered kids.  Is Hall starting to unravel, or is he at the center of a mystery that he might be the key in solving?
B'Twixt is not an altogether successful film.  I'm glad to have seen it, and there were many aspects of the film that I enjoyed.  But I'll be up front right from the top that I don't think the film really works.
There are some fine performances in the film.  Val Kilmer is a lot of fun in the lead role as Hall Baltimore.  (Having seen the documentary Val, I know that Mr. Kilmer has unfortunately mostly lost the ability to speak.  That makes it especially gratifying to get to go back and discover one of Mr. Kilkmer's last performances in a leading role before the procedures that damaged his trachea in 2015.)  There are a lot of silly aspects of this story, but Mr. Kilmer commits and plays things pretty straight.  He's a strong lead character to guide us through this bizarre story, and his commitment allows us as an audience to suspend our disbelief and go on this ride.  At the same time, Mr. Kilmer has a twinkle in his eye that is fun to see, and allows us to know that he also recognizes that maybe we shouldn't take any of this all too seriously.  (There's a particularly great scene in the early going in which Bruce Dern's Sheriff LaGrange displays the little toy model he's build of what a vampire-killing electric chair would look like, and Mr. Kilmer's reactions to this lunacy are perfectly nuanced — and very funny.)  Speaking of Sheriff LaGrange, played by the great Bruce Dern (Coming Home, Nebraska, The Hateful Eight), this is a very strange, almost unhinged performance.  I wasn't sure if LaGrange was supposed to be a threat or comic relief.  The character bounces between the two.  Mr. Dern is a lot of fun on screen, and he has great chemistry with Mr. Kilmer.  Elle Fanning (Super 8, Somewhere, Live by Night) is perfectly suited to play the etherial, mysterious young woman called V.  Ms. Fanning is a great actress and she brings a welcome naturalism to this bizarre, perhaps supernatural character.  I wish she had more to do in the film.  Ben Chaplin (The Thin Red Line, Me and Orson Welles) is memorable in his scenes as Edgar Allen Poe.  (As with Elle Fanning's character, I wish he had more to do in the film.)  I was delighted to see Joanne Whalley (who shared the screen with Val Kilmer in Willow, and who was married to Mr. Kilmer from 1988-1995) reunited with Mr. Kilmer for a few scenes as his wife, Denise.  It's fun to see Alden Ehrenreich (Solo, Hail Caesar!) as goth kid named Flamingo, and David Paymer (City Slickers, State and Main, The American President) pops up for a few fun moments as Hall's put-upon agent.
There are a lot of great scenes in the film.  I enjoyed the initial walking conversation between Val Kilmer's Hall and Elle Fanning's V.  I've already mentioned a great scene between Hall and Sheriff LaGrange involving a toy model of a vampire-killing chair, and there are several other fun scenes between those two characters.  There's a dream sequence in which Edgar Allen Poe talks about how he arrived at the idea of using a raven and the repetition of the phrase "Nevermore" in his famous poem "The Raven" that I found riveting.
But the film didn't come together for me.  The film sets up lots of interesting mysteries (what happened to the impaled girl in the Sheriff's morgue?  What is the nature of the tragedy years earlier at the hotel?  Who is V and what happened to her?), but the film didn't satisfactorily answer most of those questions for me.  What little of the backstory narrative that I was able to piece together didn't make much sense.  (I'm particularly confused about what happened with the impaled girl — who she was and who killed her.  Another huge question: the film establishes that, in the present day, there's a group of goth teenagers across the river who the locals think are up to evil.  But why is the pastor in the flashbacks to the 1950's also talking about a group of teenagers across the river?  Have those teenagers been there for a half-century??  That didn't make any sense to me.)
I could have forgiven some plot holes if I felt the film worked emotionally, but, while I enjoyed Val Kilmer's performance overall, I though his emotional climax in the film's final moments fell flat.  (I also wish the film had kept going and given us a few more minutes to tell us what happened to Hall after that moment.  Did he pull his life together?  Did he write another book?  Did he continue working with the Sheriff or did he part ways with him?)
The film has a weird digital look that I didn't find all that appealing.  I love that Mr. Coppola was embracing digital cinema and experimenting with different media.  (I'd have loved to have seen this in the theatre with the 3D sequences intact — this blu-ray release is all 2D.)  But the film keeps shifting between wildly different looks in a way that I found distracting.  And the visual effects involving the use of spashes of spot color (the red rug in the hotel in the flashbacks, Edgar Allen Poe's bright orange lantern, the glow that surrounds V and Poe) looked amateurishly fake to my eye.  There are a lot of time in which it looks like characters were filmed separately and combined in post-production (most of the Hall and V scenes, as well as most of the Hall and Poe scenes) and, again, many of those shots looked distractingly fake to me.
So, OK, this film didn't altogether work for me.  I'm still glad to have seen it, and I enjoyed it for what it is: a small-scale, low-budget little horror film.  This is not an epic like The Godfather or Apocalypse Now, but that's not what it set out to be.  This is a very short film (less than an hour and a half), and it zips by quickly.  I'm glad to see that Mr. Coppola is still working and making films, and I'm glad to have seen this one.
I'll also mention that the blu-ray release features a wonderful 40-minute documentary on the making of the film shot by Mr. Coppola's granddaughter Gia Coppola.  It's a great doc and allows us to spend time with Mr. Coppola, who is always entertaining, and to get to watch him work, which is wonderful to see.  This is lot of fun for anyone who's a fan of Francis For Coppola.  (I wish we'd also gotten an additional special feature, exploring the differences between this new cut and the original release.)
Please support my website by clicking through one of my Amazon links the next time you need to shop!  As an Amazon Associate, I earn from qualifying purchases.  That means I'll receive a small percentage from any product you purchase from Amazon within 24 hours after clicking through.  Thank you!