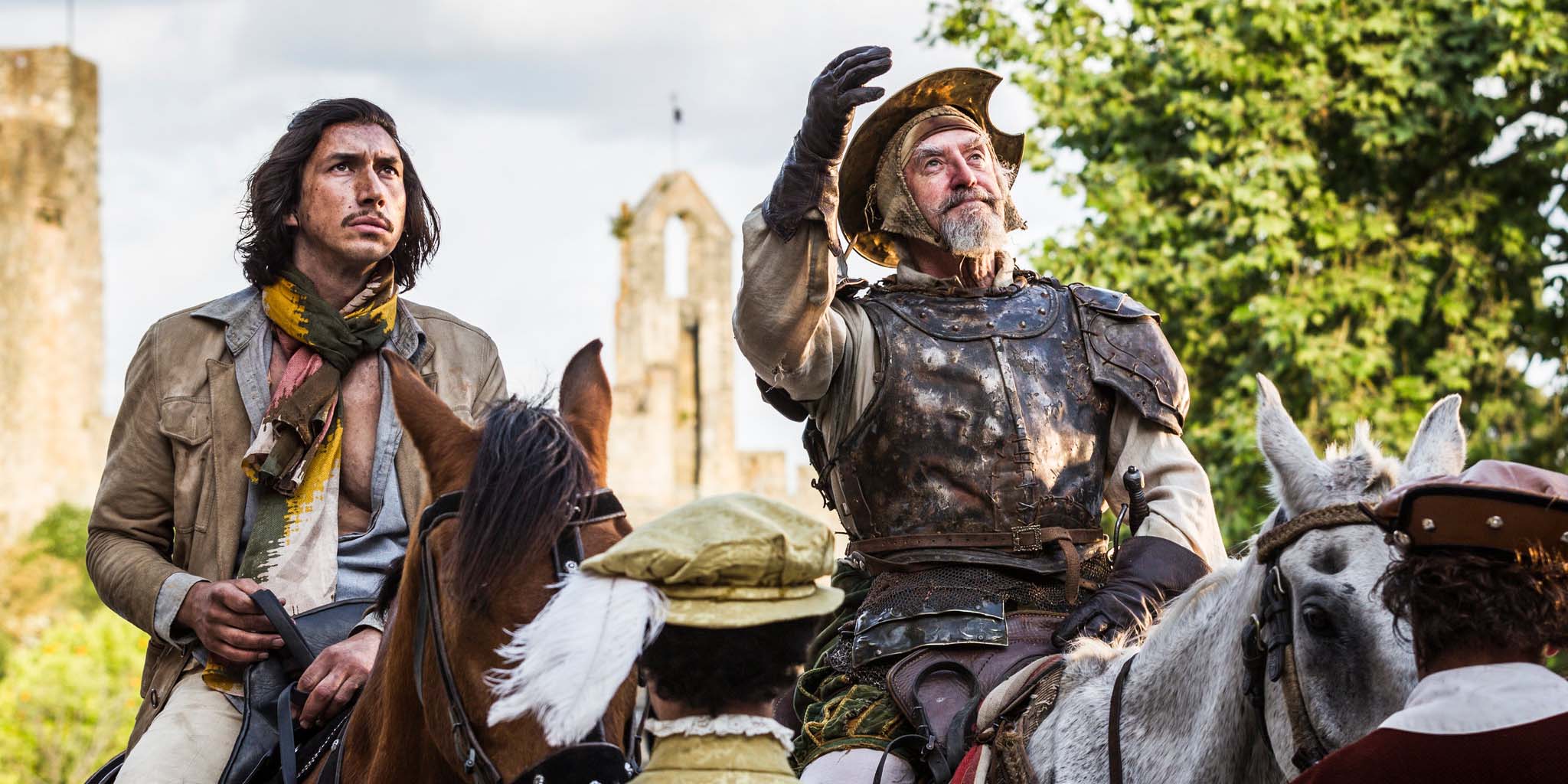 Josh Reviews The Man Who Killed Don Quixote
Back in August of 2000, director Terry Gilliam (Brazil, Twelve Monkeys) began work on his film The Man Who Killed Don Quixote, an adaptation of Miguel de Cervantes' famous novel The Ingenious Gentleman Don Quixote of La Mancha, starring Johnny Depp, Vanessa Paradis and Jean Rochefort.  It was to be the culmination of a project about which Mr. Gilliam had been dreaming and working towards for a decade.  Unfortunately, after about a week and a half of shooting, the film fell apart.
I learned the story of this cinematic implosion from watching Keith Fulton and Louis Pepe's fantastic 2002 documentary film, Lost in La Mancha.  That is a wonderful film; I highly recommend it for all film fans.  Mr. Fulton and Mr. Pepe thought they were shooting behind-the-scenes documentary footage for Mr. Gilliam's Quixote film; when the film fell apart, they realized they had an even more fascinating story on their hands.
In the two decades that followed, Mr. Gilliam repeatedly tried to return to this story and make his film.  Again and again the fates conspired to keep the movie from happening.  But then, in 2017, what seemed impossible at last happened: Mr. Gilliam was able to secure financing and assemble a new cast and production crew, and they made The Man Who Killed Don Quixote, which was released in 2018.  I've been wanting to see the film for years, but one thing or another kept me from it.  I'm glad to have finally found the time to see it.
Adam Driver plays Toby Grummett, a spoiled, burnt-out wunderkind young film director.  He's in Spain to shoot a commercial that uses the characters of Don Quixote and Sancho Panza.  It turns out that, a decade earlier, Toby had shot a student film telling the Quixote story, using local people as his actors.  Wandering away from his commercial. Toby reconnects with Javier (Jonathan Pryce), the elderly shoemaker who Toby had cast as his Quixote ten years earlier.  It seems that Javier has become convinced that he actually is Don Quixote.  After a series of unfortunate incidents land Toby on the run from the local police, he winds up paired back up with Javier/Quixote on a wild adventure.
I enjoyed The Man Who Killed Don Quixote!  It's not one of my favorite Terry Gilliam films, and it's way too long.  (Clocking in at two hours and twelve minutes, this leisurely-paced, somewhat stream-of-consciousness film felt to me like it would have been far stronger had it been about a half hour shorter.)  But I found a lot of enjoyment from this strange, playful story that clearly is so close to Mr. Gilliam's heart.
As with so many of Terry Gilliam's films, this movie explores the blending between fantasy and reality.  Many characters in the film are disconnected from what others might judge to be reality, and the film's narrative itself often slides — without one's realizing it at first — into fantasy.
The story is anchored by the tremendous lead performances of Adam Driver (Girls, the Star Wars sequel trilogy, The Last Duel, House of Gucci) and Jonathan Pryce (Tomorrow Never Dies, Game of Thrones).  Mr. Driver is a magnetic lead.  He's instantly able to convey how pampered and selfish Toby is when we first meet him, and he's able to subtly build more depth into nuance into the character as the story unfolds and we get to know him better.  He's also unhinged enough to be able to really sink his teeth into some of the films' wilder scenes.  Mr. Driver has an intensity but also a twinkling humor that serves him well here; there are a number of great moments in the film that Mr. Driver is able to make funny because his performance hits just the right notes.  Mr. Pryce, meanwhile, brings great dignity to the role of Javier/Quixote.  Even when this character seems to be at his most deluded, we can never write him off as just a joke because of how seriously and compellingly Mr. Pryce is able to play the role.  We're always rooting for him, which is so important for this character.
Joana Ribeiro is mysterious and luminous as Angélica, the young woman who played a small role in Toby's student film.  As a viewer, I was captivated with Angélica, just as Toby was.  Olga Kurylenko (Quantum of Solace) is also enjoyable as Jacqui, the flirtatious wife of Toby's boss.  (Though I wish the film allowed us to get to know her better.  I could never quite get a bead on Jacqui.  Was she genuinely interested in Toby, or did she just enjoy playing with her power over him?)  Stellan Skarsgård (Thor, The Girl with the Dragon Tattoo, Dune) plays Toby's boss (Jacqui's wife), who seems to vacillate between loving Toby and wanting to have him arrested or killed.  (He tells Toby to "take care of" his wife at the beginning, but I guess he's never seen Pulp Fiction because he then seems surprised that Toby and Jacqui quickly engage in romantic shenanigans.)
The film looks absolutely beautiful.  Mr. Gilliam and cinematographer Nicola Pecorini beautifully capture the gorgeous Spanish vistas, as well as many epic and stunning interior locations.  This is a look that cannot be duplicated on a soundstage.  The production design is also wonderful and original, as one might expect from a Terry Gilliam film.  The movie is packed to the brim with incredible visual inventiveness; wonderful props and costumes and set decoration, all coming together to give the film a distinct look that is very much at home in Terry Gilliam's oeuvre.
There are points in the film's narrative that I wish were clearer, and characters that I wanted to better understand (Toby's boss, Jacqui, etc.).  And as I noted above, I think the film would have been stronger had it been edited down to a shorter length.  At the same time, I was delighted to get to revel in another burst of Terry Gilliam imagination and wonderment.  It's a credit to Mr. Gilliam's incredible tenacity that, after almost three decades of effort, he was able to will this film into existence.  Just that is a miracle that should be celebrated.  The film is a salute to creativity and imagination, to seeing beyond the limits of "reality".  Those aspects of it spoke to me deeply.  I'm glad this film exists, and I'm glad to have seen it.
Please support my website by clicking through one of our Amazon links the next time you need to shop!  As an Amazon Associate, I earn from qualifying purchases.  That means I'll receive a small percentage from any product you purchase from Amazon within 24 hours after clicking through.  Thank you!