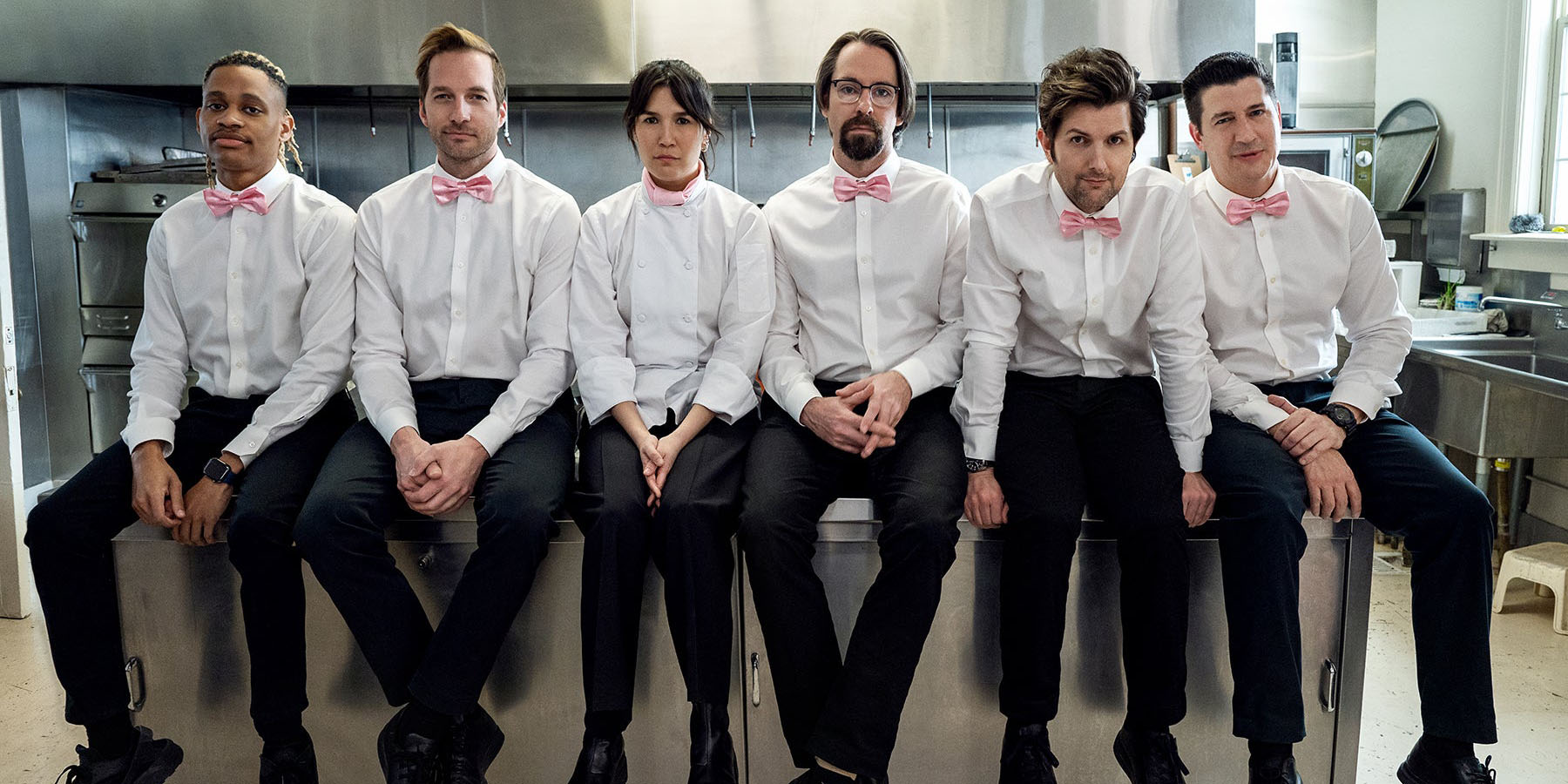 Josh Reviews the Triumphant Return of Party Down!
I'd never heard of Party Down during the two seasons it was on the air, on Starz, in 2009-10. But after it was cancelled, I started reading about it.  I finally watched the show in 2011, and I fell immediately in love with this brilliant, hilarious show.  I tore through those original two ten-episode seasons.  In the years since, I've been evangelical about this show.  I've written about it on this site.  I've talked it up with friends and family.  I've given the DVD sets as gifts.  Every now and then there'd be talk of a Party Down reunion, but I never ever thought it would actually happen.  Cancelled shows returning is rare; rarer still is for that to happen after so much time has passed.  And this was a show in which basically everyone on it originally had gone on to become incredibly successful; how could they ever possible bring this cast back together?
Somehow, miraculously, they did it.  Twelve years after the end of season two (and apparently after the push of a reunion organized by Vulture), Starz has reassembled the bulk of the original cast and creative team to create a new six-episode third season.  (All four of the show's creators returned — John Enbom, Rob Thomas, Dan Etheridge, & Paul Rudd — with Mr. Enbom serving as the show-runner for this new season.)
It is brilliant.  They have recaptured the magic of the show.  These six new episodes are terrific, and fit smoothly into the world I'd remembered and loved from the original episodes.  My major complaint is that six episodes is far too few!!!  After waiting for so long, six episodes come and go at a painfully rapid pace.  I desperately hope Starz renews the show for an additional season!!  (Hopefully many additional seasons!!)
Party Down is about a group of down-on-their-luck wannabe actors who work for Party Down catering as a way to make a living when they're not getting roles.  Each episode takes place at a different event that the Party Down gang is catering, and so each episode brings a fun new location and new guest stars.  It's a great premise for a show, and the original cast represented a murders row of incredible comedic actors.
For this revival, they've gotten almost everyone back.  Adam Scott (who's been so great recently on Severance) plays Henry, who achieved fame when he was younger by starring in a major series of commercials… but the commercials made him so infamous he couldn't get cast in anything else.  Ken Marino (In a World…, Wet Hot American Summer) is Ron, the tightly-wound Party Down team leader.  Martin Starr (Freaks and Geeks, Silicon Valley) is Roman, who wants to be an author of hard sci-fi.  Ryan Hansen (Veronica Mars) is Kyle, the handsome but dim actor who believes he's destined for stardom.  Jane Lynch (Glee, A Mighty Wind, The 40-Year-Old Virgin) is Constance, a jovial, daffy woman who thinks she's "done-it all" in Hollywood but was never as successful as she thought she was.  Megan Mullally (Will & Grace) is Lydia, who's trying to manage her daughter into fame and fortune as a child actress.  Ms. Mullally replaced Ms. Lynch for season two of the show, when Ms. Lynch became a star on Glee; it's a lot of fun to have them both be a part of this reboot.
The one main cast member who couldn't be involved in this relaunch was Lizzy Caplan, who played the aspiring comedian Casey.  Ms. Caplan's work on Fleishman is in Trouble kept her from being able to appear in this new season of Party Down, which really stinks.  Casey was an important part of the show (I'd argue she was the #2 lead, after Adam Scott's Henry), and Ms. Caplan was so terrific in the role.  Henry and Casey's relationship was the main emotional through-line of the first two seasons, so it's a really bummer that Casey couldn't be a part of this new season.  One of the many many reasons I desperately want there to be another season of this show is so Ms. Caplan can return as Casey!!
In addition to the returning cast-members, they've added a number of new fantastic members to the ensemble.  Jennifer Garner plays Evie, a film producer who, at the start of the season, discovers her famous movie-star boyfriend has been cheating on her.  She becomes a new love-interest for Henry, and I must admit that, at first, I was very resistant to the thought of anyone replacing Casey!!  But Ms. Garner quickly won me over.  Tyrel Jackson Williams (who was so great on Brockmire) plays Sackson, who aims for fortune and glory not through acting but through creating content on social media.  Zoë Chao (The Afterparty) plays Lucy, Party Down's new head chef, who aspires to create food-art far weirder than what Ron wants her to make.  It's a smart idea to have some new, younger faces brought into the mix, and both Mr. Williams and Ms. Chao are fun, loony additions to the madcap Party Down crew.
Many "legacy" sequels (sequels made many years after the original TV show or movie) suffer from the same problem of feeling like the characters haven't progressed from where we'd left them.  In the Star Wars sequel trilogy, for example, it's a real drag that our heroes didn't get the happy ending we'd thought they'd gotten after Return of the Jedi, and that they mostly seem stuck in the same place (Han is still a smuggler, Leia is still running a rebellion, etc.).  Watching the premiere of this new season, I felt some of that.  The final moment of season two had ended on a note of hope… but now we find out that not only did Henry not ever succeed as an actor, but that he and Casey split up.  Even more than that, Henry married someone else but is now getting divorced.  That divorce felt like a bit too much misery to pile upon Henry.  I know the character needs a reason to be desperate enough to be back working for Party Down, but it's a drag seeing the show's main character, who I'd loved and rooted for, be such a failure.  On the other hand, this has always been a show about failure and disappointment, so it works surprisingly well that so many of the characters are still working for Party Down after so many years!  I think they did a great job rationalizing why all the other characters are still connected to Party Down.  Having Kyle get cancelled because of the awful unintentional Holocaust song his band performed in the season two finale (one of the funniest moments of the original run) is perfect.  And I liked that neither Constance nor Lydia are actually working as Party Down servers anymore, but are nevertheless a part of most of the episodes.  Constance as a part-owner and partner for Ron is a brilliant idea and leads to a lot of comedic fun.  It's a bit of a stretch that she Zooms into several episodes, but Ms. Lynch is so funny that it all works OK for me.  (I assume this was a production work-around as a way to keep Jane Lynch involved despite her commitments to other projects.)  (UPDATE: one of the many gems in this wonderful Alan Sepinwall article for Rolling Stone is that apparently those Zoomed-in scenes were caused by Ms. Lynch's getting Covid during the shooting of the show!)
Making Jennifer Garner's Evie a new love-interest for Henry surprised me; as I noted above, it at first felt to me that the show was trying to just slide her in to replace Casey, and that didn't sit well with me.  But Ms. Garner and Mr. Scott had great chemistry, and I enjoyed the show more once Henry was less miserable than he was in the first two episodes.  I liked the arc of their relationship over the course of the six episodes.  But this was also where the show suffered the most, for me, at only having six episodes this season.  Their relationship had to progress very quickly, and I think their story would have worked better had it been given a little more space to develop.  I'd also have loved to have gotten to know Evie better.  I like Adam Scott's Henry, but I'm not sure I ever quite understood what this powerful, successful woman saw in this divorced, loser bartender.  I'd have liked to have gotten a little more of Evie's perspective.  But that being said, Ms. Garner and Mr. Scott did a great job at selling their relationship, and I was suitably invested in the emotions of where the season finale leaves the two of them.
As was always the case for this show, each episode brought some fun guest star roles.  Quinta Brunson (Abbott Elementary) is very funny as Kyle's agent in episode one.  James Marsden (Cyclops the Fox X-Men films, Superman Returns, Westworld) is a hoot as Evie's misbehaving superstar boyfriend in the first two episodes.  Nick Offerman (Parks and Recreation) has a great turn as a white supremacist in episode three, and I was very happy to see Judy Reyes (Scrubs, Better Things) as a police detective in episode four.  Lyric Lewis is great as a critical events-planner in episode five.  (I laughed a lot watching her repeatedly sample one of Henry's martinis, only to spit it back out.)  Liv Hewson (Yellowjackets) is also solid in that episode as Lydia's now 23-year-old daughter Escapade.  (I've read in interviews that the show's creators felt it was a little harder to write great guest-star roles this season, because they had to give good stuff to eight main characters in most episodes, rather than the six of the original run.  I think that's accurate, and none of these guest-star roles reached the highs of the greatest guest stars from the first two seasons: J.K. Simmons, Steve Guttenberg, Steven Weber, Kristen Bell, Ken Jong, Kevin Hart, etc.  But on the other hand, this season did have a lot of great guest stars, and I think I'll enjoy those guest appearances even more upon repeat viewings.)
These new episodes brilliantly recapture the feel of the original run.  First of all, they're just as sharp and funny as the show always was at its best.  The format is the same, from the beloved opening titles music to the show's device of putting an episode-ending coda in the middle of the closing credits.  The show returns to some of its classic comedic ideas — for example, Ron's voracious vomiting in front of the girl he loved from high school (in season one, episode nine: "James Rolf High School Twentieth Reunion") is, in the finale of this new run of episodes, topped by an outrageous Ron-gets-food-poisoning sequence that had me rolling on the floor in horror and joy.  But the show thankfully doesn't feel like a sad retread — it feels very fresh and alive in a way that made me so happy to see.
There are some fun surprises in the season finale that I won't spoil.  I will say that I was surprised by the career and life choice that Henry makes.  It struck me as cowardly at first, but by the end of the episode I had come to understand it, and it was nice to see Henry, for once, be happy with what he's doing as opposed to longing for something else.  I was also delighted to see the character from the original run who appeared in the final few minutes.  That scene played out just right, and I was left verity excited by the tantalizing possibilities for great stories if we get another season.
But let's be happy with what we have — what a miracle it is that we got six brand new episode of Party Down!  If you haven't yet watched this series, I implore you to start with the original seasons and enjoy!
Please support my website by clicking through one of our Amazon links the next time you need to shop!  As an Amazon Associate, I earn from qualifying purchases.  That means I'll receive a small percentage from any product you purchase from Amazon within 24 hours after clicking through.  Thank you!