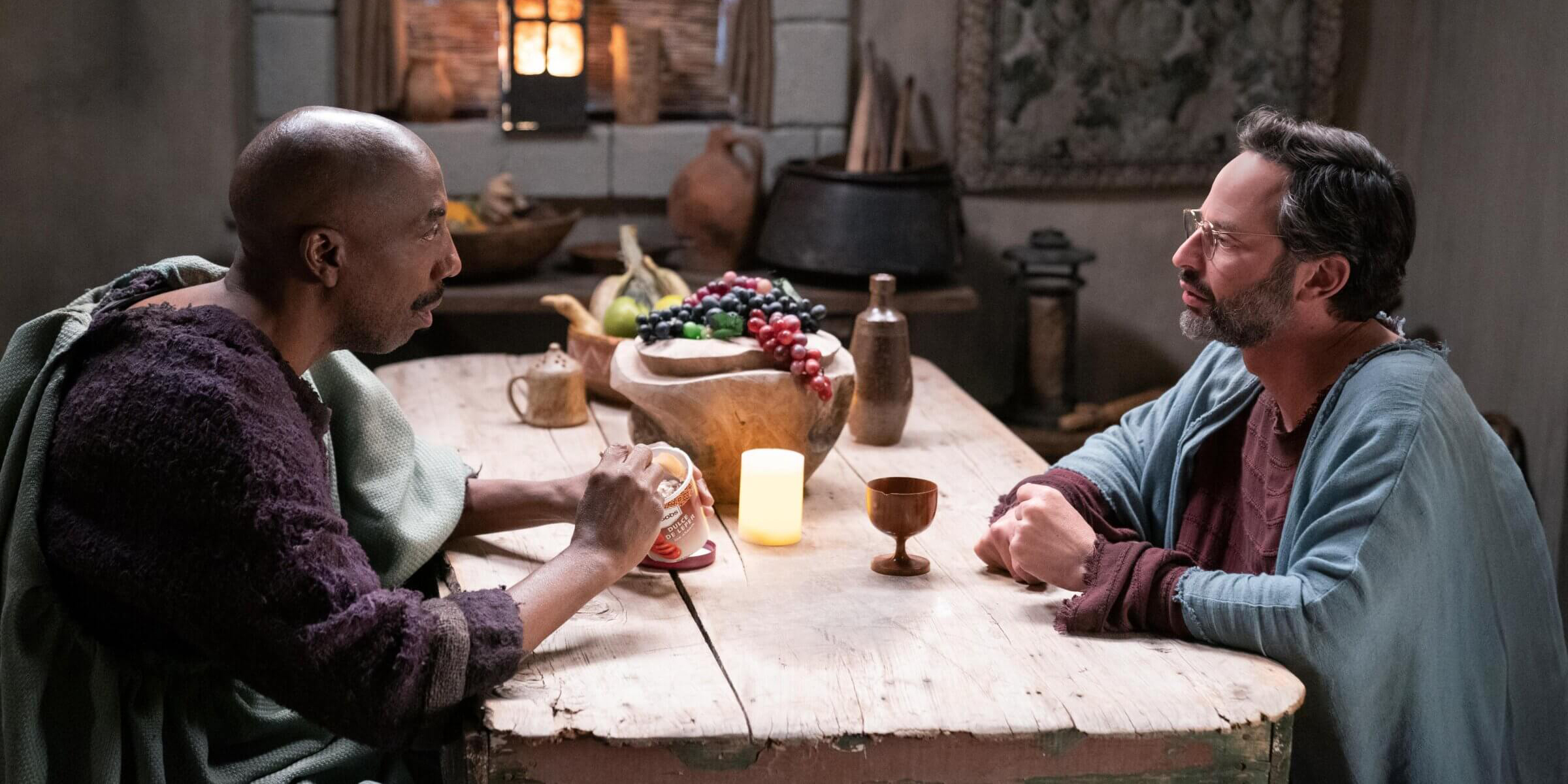 Josh Reviews History of the World Part II
Whereas I've always wanted to see Spaceballs II: The Search for More Money, I never had any hopes or expectation that there would be a sequel to Mel Brooks' 1981 film History of the World (Part 1).  That Part 1 was always a joke!  Because the world is still turning and, to quote Captain Kirk in Star Trek VI, "we haven't run out of history quite yet."  Despite the very funny fake teases at the end of the movie of sketches that would be in Part 2, I always took that as a joke and never thought there'd be a Part 2.  
So color me amazed that forty-two years after Part 1, we've been blessed with History of the World Part II!  Overseen by talented comedians Nick Kroll, Ike Barinholtz, and Wanda Sykes, along with David Stassen and the great Mel Brooks himself, History of the World Part II is an eight-episode Hulu mini-series.
I thoroughly enjoyed these eight episodes!  These episodes are a lot of fun.  True, the sketches are somewhat inconsistent.  But that was the case of the original film, too!  There are some stinkers to be found in these episodes.  (The seemingly endless Shirley!, a parody of a 1970's sitcom starring Wanda Sykes as Shirley Chisholm, was extraordinarily painful.)  But there are enough terrific sketches that I laughed a lot watching each episode.
This concept arguably works even better as a mini-series than a movie.  I enjoyed watching an episode or two at a time, and then coming back later.  If this had been a two-hour movie, my attention might have waned.  (For me, I always get a little bored during the French Revolution stuff in History of the World Part 1.)  But as short twenty-to-thirty minute episodes, I thought this worked great and kept me entertained.
There are some spectacular sketches.  My favorite was probably the story of Jesus as a Curb Your Enthusiasm episode, with Nick Kroll playing Judas as Larry David.  My second favorite was probably the Council of Nicaea, in which a bunch of white Christians decide how to rework the story of Jesus more to their liking.  (Two great Jesus sketches!  And there's actually three, because I haven't mentioned The Last Supper Sessions, a version of Peter Jackson's recent Get Back Beatles documentary with Jesus and his apostles as the Beatles.)  I also loved the sketch in which Kumail Nanjiani plays a man pitching the Kama Sutra to publishers; Alexander Graham Bell getting the first crank call; Shakespeare's writer's room; and Jack Black as a singing Stalin.  (I laughed a lot at that Stalin CCCPR joke.)
I was surprised that there were certain sketches that continued from episode to episode.  That approach was something hit and miss.  I really liked the series of sketches in the early episodes featuring Nick Kroll and Pamela Adlon as a Fiddler on the Roof-esque Jewish family in the shtetl, who get caught up in the Russian Revolution.  There were some funny bits, and some great songs.  But I wonder if those would have played better had they been strung all together to allow momentum to build in the story?  As individual pieces scattered around several episodes, they didn't have the impact for me I thought they should have.  I've already mentioned the unbearable Shirley! sketches that ran through most of the episodes, which I did not find funny at all.  (Except for one good bit in episode five, in which George Wallace the actor/comedian plays George Wallace the racist segregationist.  That was great.)  On the other hand, I enjoyed periodically checking into The Last Supper Sessions, which did work well as short individual bits.
The cast assembled for this mini-series was incredible.  The main threesome of Nick Kroll, Ike Barinholtz (his Teddy Roosevelt was a hoot), and Wanda Sykes are all great, and they're joined by an amazing array of guest-stars.  I've already mentioned Pamela Adlon (Better Things), Kumail Nanjiani (The Big Sick, The Eternals), and Jack Black, who were all terrific.  I was also delighted by: Zazie Beetz (Atlanta, Joker) as Mary Magdalene, Seth Rogen as Noah, Richard Kind as Peter and J.B. Smoove (Curb Your Enthusiasm) as Luke, Josh Gad as William Shakespeare; Jason Alexander (Seinfeld) as a notary public assisting with the treaty to end the Civil War, Taika Waititi (Thor: Ragnarok) as Sigmund Freud, D'Arcy Carden (The Good Place) and Jason Mantzoukas (Brooklyn Nine-Nine) as bickering delegates at the Oslo Accords, Jay Ellis (Top Gun: Maverick) as Jesus, Joe lo Truglio (Brooklyn Nine-Nine, Wanderlust), Ken Marino (Party Down, In a World…), and director David Wain (Wet Hot American Summer, Wanderlust) as members of the Christian Council of Nicaea and Jillian Bell (Brittany Runs a Marathon) as their assistant, David Duchovny (The X-Files) as Howard Cosell, Johnny Knoxville as Rasputin, and Mel Brooks himself as a very buff Jesus.
Mel Brooks has often incorporated funny songs into his projects.  Of course, a highlight of History of the World (Part 1) is the Inquisition musical production number.  I was pleased this sequel had some great songs as well.
I'm not sure how involved Mel Brooks actually was in the production of this project.  I was pleased that his presence is felt throughout the episodes, as Mr. Brooks narrates each one and sort of pops up as a character at the very end.  I can say that the sketches succeed at capturing the flavor of Mel Brooks' particular brand of humor.  The show is very silly, and willing to balance a very literary joke with a very juvenile one.
I thought this was a lot of fun, and I was sorry when the eighth and final episode was over.  I love that they ended with a tease of History of the World Part II: Part II — I'd love to see that!  And I don't want to wait forty-two years for it!!
Please support my website by clicking through one of my Amazon links the next time you need to shop!  As an Amazon Associate, I earn from qualifying purchases.  That means I'll receive a small percentage from any product you purchase from Amazon within 24 hours after clicking through.  Thank you!